10 Reasons Hannibal Was The Best Show On TV
Or... How The In Hell Did This Show Get Cancelled?
The best show on television has been cancelled. Just three episodes into its third season, NBC's Hannibal has had its proverbial plug pulled, its fate hanging in the balance as fans await news of where, if anywhere, the show is heading to next. However there's a chance that creator Brian Fuller won't get to see out his vision for the show; that the season three finale will be Hannibal's last woebegone outing.
Hannibal really is one of the most unique and gripping things on television. A dark, disquieting, elegiac, ultimately poetic show. In this 'golden age of TV', it shouldn't come as a surprise that such a show should exist, but Hannibal takes modern television to new levels, and surprise should abound that Hannibal is based on long-outdated characters from film and literature. That such a work can be born from a franchise long past its sell-by-date is astounding.
In the eyes of the executives, it's the ratings that matter, and Hannibal's season three premiere was down nearly a million viewers on season two's. True, the show is not to everyone's taste: it's a verbose, artistic interpretation that spends more time luxuriating in symbolism and atmosphere than it does in progressing the story. But to those bored of the run-of-the-mill police procedural, it's a godsend. 
In light of it's cancellation, let's remind ourselves of it's brilliance. 
10. The Aesthetics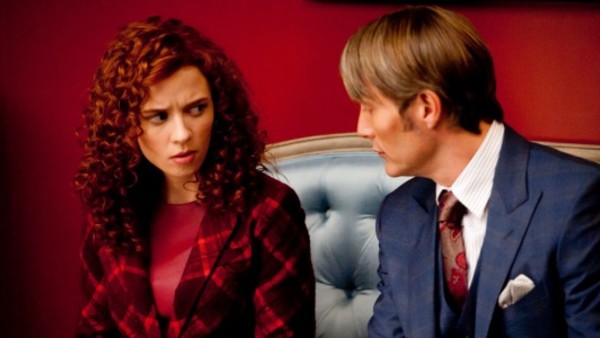 More than anything, Hannibal is a deeply visual experience. Not content with looking simply beautiful, Hannibal takes that beauty to an emblematic level, dousing every frame in an abstract rhetoric. The show has a colour palette unrivalled in the history of television, an iridescence all its own, one in which hues and tones are used to both settle and disturb, with blood-red in particular taking on an extra, symbolic significance.
Even simple establishing shots of exterior buildings (FBI headquarters, characters' houses etc.) have their own kind of splendour, with solid lines forming boundaries between the nature outside and the sterility of the offices and work-rooms inside. Above, over-head, shifting skies cyclone to signify changes in time, mood and atmosphere. 
The bourgeois character of Dr Hannibal Lecter is mirrored in the set design, which indulges in sleek, modern spaces (Hannibal's infamous kitchen-come-laboratory) as well as ones of antiquity and grandeur (Hannibal's therapy office), creating the perfect dichotomy for this 21st century aesthete to exist in. Everything about the show's aesthetic is thought through, and every texture counts. It's not hyperbole to say that this is the finest looking TV show ever made.