10 Things You Didn't Know About Homer Simpson
A run-down of little-known facts and history concerning Springfield's favourite stumbling-bumbling-boob.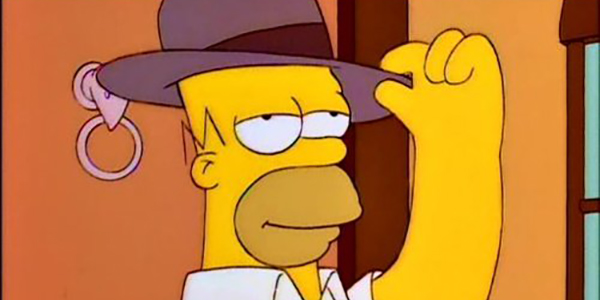 All hail Homer Simpson, unsung hero of the working class, man of the people, lovable oaf and prodigious beer drinker. For more than 25 years now, he's entertained millions of loyal fans around the world as the bumbling, drunken, overweight father figure on the beloved cartoon series The Simpsons. We've gotten to know our pal Homer quite well during that time through regular viewings of the series (and the many, many repeats constantly airing) but there are still quite a few facts about Homer J. Simpson that you might not be aware of. For example, his middle name? That's short for "Jay". Here's a list of ten more things you may not know.
10. Homer's Extensive Employment History
Even the most casual Simpsons fans are aware that Homer's main vocation is working as a lowly technician at the Springfield Nuclear Power Plant (despite being fired multiple times, he always seems to be able to get his job in Sector 7-G back) but the extremely long list of employment he's had over the course of the series is truly staggering. Let's list them, shall we? Boxer, team mascot (pictured above), astronaut, church deacon, roadie, conceptual artist, bartender, illegal chiropractor, food critic, mayor, country-western manager, bodyguard for the mayor, farmer....and so on. (You really didn't think I was going to list ALL of them, did you? I'd be here for months.) If you want to include the jobs he had before the nuclear power plant, add windmill operator at Sir Putt-A-Lots Merrie Olde Fun Centre, fry cook at Gulp N' Blow, laser tag worker, and pin monkey at Barney's Bowlerama. Creator Matt Groening in an interview claimed that Homer has had 188 jobs over the course of the first 400 episodes, but adding in the most recent seasons (18 through 25) would boost that number by at least 8, including opera star, vehicle tower, bounty hunter, lead actor in the "Everyman" movie, professional stand-up comedian (with Cheech Marin!), hairdresser, Cable TV political pundit, and most recently, outdoor movie theater owner who only shows illegally downloaded movies. What jobs could be in Homer's future? Whatever they are, Homer will be ready to tackle them. He's certainly never let lack of knowledge or experience (or even basic motor skills or hygiene) stand in his way.