10 TV Shows That MOCKED Their Rivals
9. The Orville Mocked Star Trek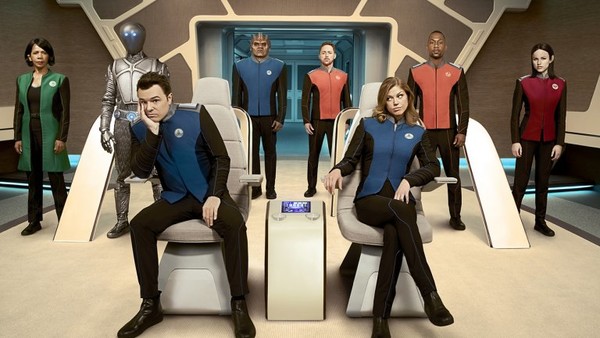 This one is an unusual case.

It's no secret that Family Guy mastermind and current king of adult animation Seth MacFarlane is a massive fan of Gene Roddenberry's iconic sci fi franchise Star Trek—just look at our recent rundown of the post-Trek careers of The Next Generation cast and you'll find almost every major and minor player in the popular series was offered a voice role on Family Guy years later. Hell, Picard himself even voiced the bad boss of American Dad's Stan Smith
So when The Orville debuted in 2017, it was widely understood that the series would be a (presumably short lived) Star Trek spoof in the vein of Family Guy's Star Wars parody specials.
However, the show has instead managed to earn a fan base of its own by taking its sci-fi universe relatively seriously and using it as a springboard for some workplace humour which wouldn't feel out of place in Brooklyn 99 or The Office, that said, there's still plenty of plot lines, characters, and even episodes which are thinly veiled spoofs of classic Star Trek, so the Orville more than counts as a Star Trek spoof even as it proves itself to be more than just that.