15 Greatest Alan Partridge Moments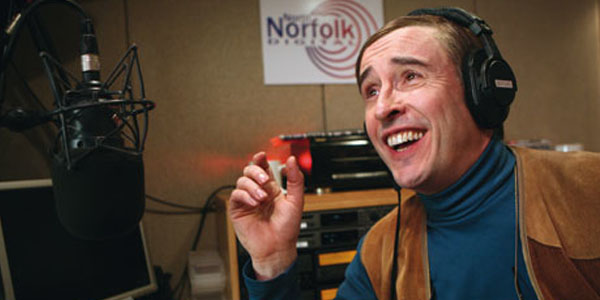 With the recent release of his movie Alpha Papa, (summed up well by Alan himself as "a powerful piece of work with a capital POW"), Alan Partridge has hit career highs not reached since TV Quick magazine voted him Man of the Moment in 1994. It seems Alan is making the most of the limelight, and in a career that has seen considerably more downs than ups, who can blame him? His life so far has been a riches to rags and back to (admittedly more modest) riches tale. Although he has never quite returned to the heady days of his own TV chat show, he has still come through some pretty tough periods - unfairly being denied a second series of his show after shooting a guest live on air in the final episode, having to return to the graveyard slot at Radio Norwich and living in a Travel Tavern for 182 days. There was also the tricky period where he became clinically addicted to Toblerone, a shocking ordeal that culminated in him driving to Dundee in his bare feet. Harrowing stuff. So we can all be pleased that Alan has finally found some stability as a DJ of quality and panache on North Norfolk Digital. Here we look back at some of the ups and downs of Alan's career. This list is in no particular order.
15. Sneezing Blood On The Blouse/Cardie Of A Lady of the Cloth
http://www.youtube.com/watch?v=CmywrDBW3Us Alan has done many bad things. He insulted every guest who dared to come on his chat show, he punched the Chief Commissioning Editor of BBC Television in the face twice with a turkey encased fist, and he shot a man dead on live TV. But this still ranks as the second worst thing he's ever done.