25 Facts You Probably Didn't Know About The Walking Dead
3. In A Better World...
Sometimes though, leaving the source material behind can be problematic. Andrea was initially one of the most popular characters on The Walking Dead and featured heavily in some of the shows most well received story lines, so it came as a huge shock to the fans when she was killed off at the end of season three. Fortunately, Andrea is still alive in the comics where her and Rick Grimes are now in fact lovers, but alas, this fate was never meant to be for Laurie Holdens' portrayal of the character. Fans can now only dream about seeing this pair unite on the small screen...
2. They're 'Armless Really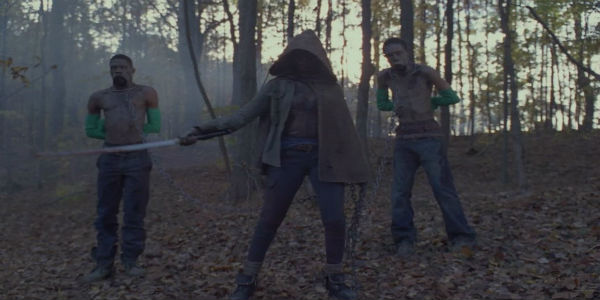 One of the most iconic moments from the entire four seasons of The Walking Dead is when we first meet a hooded Michonne wielding a katana as she leads two armless zombies around like pets. The tamed 'walkers' have now become synonymous with Michonne's character, demonstrating the lengths she will go in order to survive in this post-apocalyptic world. Rather than employ actors who are missing both arms, the crew decided to take the far more expensive route and use 'green screen gloves' to remove the 'walkers' arms in post-production. Seems like a waste of money to us...
1. Spin-Off Time
Finally, fans should rejoice at not only the prospect of a fifth season, but also because the shows creator Robert Kirkman has confirmed that a new companion series is due to be made in the next few years. The spin-off will tell a brand-new story featuring a completely different cast, but will still occupy The Walking Dead Universe currently inhabited by Grimes and co. What's particularly interesting is that Kirkman says the idea of making a new show "that isn't tethered by the events of the comic book, and is truly a blank page" has set his creativity racing. If that's how the creator of The Walking Dead feels, you should be feeling the same way. Fact. In the meantime, at least we still have the fifth season to look forward to, which could end up being the best one yet...
Which fact interested you much? Were there any big surprises in there? And do you know any more facts that fans of the show would love to hear? Let us know in the comments section below!