American Gods: First Look At Shadow And Mr Wednesday
Jack's Crocodile Bar is open for business!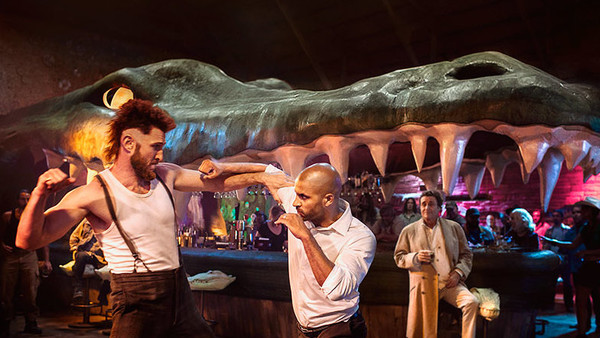 A leprechaun and an ex-convict walk into a bar...
Ok, there's no punchline here, but there is a first look at American Gods, Starz's big adaptation of Neil Gaiman's wonderful novel.
Courtesy of Entertainment Weekly, two images from the series have been revealed. The first shows main protagonist Shadow (played by Ricky Whittle) in a fight with leprechaun Mad Sweeney (OITNB's Pablo Schreiber), taking place in Jack's Crocodile Bar while Ian McShane's Mr. Wednesday looks on.
The location and scene is an important one in the book, as it's where Shadow really proves himself to Mr. Wednesday, the man he'll then go on to work for as the battle between the old Gods and the new approaches. It certainly looks impressive, with a visual design that may be setting the tone for the rest of the series.
Speaking to EW, series co-creator Bryan Fuller said of the bar:
"It was one of the sets that we were the most excited about and an opportunity to do a tonal landgrab for what we are and what the style of the show will be. [Jacks] is a kind of hillbilly chic aesthetic for Shadows entre into the world of the gods.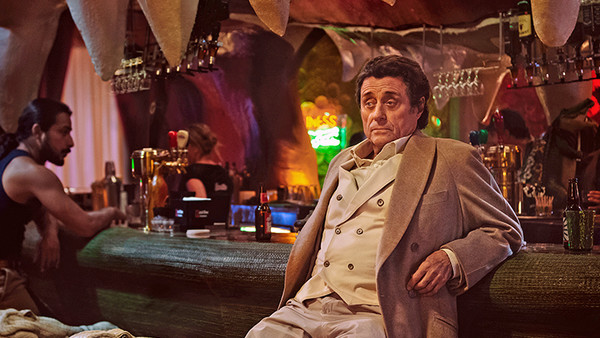 The other photo puts the focus very much on McShane's Wednesday, and it's hard to argue against the fact that he really does look the part. Indeed, from his appearance to his grizzled gravitas and charisma, he seems a perfect fit, with Fuller saying:
"I think the comedy and charm and ease of Wednesdays appeal is very well-suited for Ian McShane. He has a vibrancy as Wednesday that could have gone so many different ways in other actors hands, but has such a specificity and reality, despite the situation at hand.
American Gods tells of the impending battle between the old Gods, those taken from various mythologies, and the new ones, such as Media and Technology. It's an epic, sprawling tale, with Shadow as the human heart. Of the series' approach, co-creator Michael Green said:
"Its really much more of an immigration story than it is a god story. One of the biggest challenges was stripping the idea of gods as X-Men or giant empowered creatures who stomp on cities and throw the oceans. We wanted them to be people with problems. Its not about lightning bolts its about the question of day-to-day survival.
They're certainly saying the right things about it so far, while the cast is very impressive and, based on these photos, it looks great. There are few more exciting TV shows in development at the moment, and I can't wait to see more of this as we get closer to its 2017 air date.
What do you think of how American Gods is shaping up? Let us know in the comments.
Create Content and Get Paid
---