Arrested Development Season 4: Beginners Guide To TV's Brightest Hidden Gem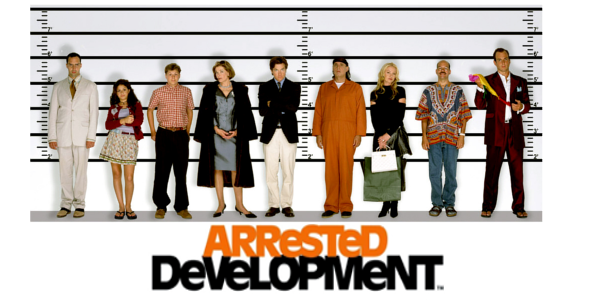 'Once in the history of time comes a sitcom like Arrested Development' - A quote 'Entertainment Weekly' attributed to a television show that delighted and thrilled for three electric seasons until its cancellation by Fox in 2006. I first discovered Arrested Development back in 2003. I believe it was around 3am and while I was channel surfing I decided to stop and give the show a chance. I became an instant fan and have been ever since. The show was filled with witty jokes, hilarious scenarios and outlandish characters but with ridiculously low ratings in addition to moronic time slots handed out by Fox, the show eventually drifted away. Since Arrested Development was taken off the air, die hard followers have worked tirelessly for the return of the show. I consider myself to be among that group of committed Bluth lovers, and did my fair share of signing petitions, constantly checking entertainment news, posting on AD fan site the-op.com, re-watching all the episodes on DVD, clinging onto the show I loved. So as you can imagine, when the news broke in late 2011 that the show will be back for a fourth season, airing on 'Netflix', and also a movie, I was overjoyed to say the least. The new season will be available in early 2013 and the movie will follow. As the time draws nearer to that long overdue moment of ecstasy, I write this article to highlight this superb and unique comedy series, hopefully not giving too much away in terms of storylines to people who could become future fans. Arrested Development follows the story of the extremely dysfunctional and ex-wealthy Bluth family, proprietors of the retail business 'Bluth Company'. The once prosperous company has fallen to its knees. When the CEO is arrested for fraud and blowing most of the company money on 'personal expenses', his son, Michael Bluth (Jason Bateman), is forced to put a halt to his plan of himself along with his son fleeing his crazy family and starting fresh. Michael takes command of what is left of the business. The seemingly sole level headed member of the clan, widowed Michael Bluth is a single father to a teenage son, George Michael (Michael Cera). With a nervous attitude and awkward reflexes, George-Michael is a high school student and part time worker selling frozen banana's at the 'banana stand', which appears to be the only profitable source of the Bluth company. George-Michael is a good son and always tries to do the right thing, albeit whilst harbouring worrying thoughts about his female cousin. With the task of picking up the pieces, Michael is constantly faced with the erratic escapades of his close relatives. Michael Bluth has two brothers. The younger, Buster (Tony Hale), is a shy, neurotic 'mama's boy' who is afraid of his own shadow, and the elder is named Gob (Will Arnett), a misogynistic and arrogant amateur magician who is unable to handle responsibility or commitment. Michael also has a sister named Lindsay (Portia De Rossi), who is a self-centered, superficial diva, and who spends most of her time supporting extravagant charity causes which quickly lose her interest. Lindsay's husband, Tobias (David Cross), an ex-psychiatrist turned wannabe actor who's sexuality is up for debate, hops through different maniacal activities that range from painting his entire body in an attempt to join the 'Blue Man Group' to disguising himself as the family's elderly British female housekeeper in order to rekindle his failing marriage. The couple's daughter, Maeby (Alia Shawkat), is a confident, quick-witted and individualistic teenager, who manages to blag her way into a movie executive job. She is also the subject of her cousin George Michael's illicit dreams. Finally, we come to Michael's parents: his father, George Snr. (Jeffrey Tambor) is a deceptively sane-minded fugitive who's ups and downs behind bars drive him to escape to Mexico and later to the families attic, where he lives for most of the second season. George Snr.'s wife and Michael's mother is Lucille Bluth (Jessica Walter): as the cold, calculated and sharp-tongued matriarch of the family, Lucille enjoys a glamorous lifestyle which is largely funded by company money. The show also boasts a line of star-studded supporting cast members and guest appearances: Liza Minnelli plays Lucille Bluth's neighbour, Lucille Austero, and the two women are always at war with each other while wearing superficial smiles. Henry Winkler plays the hapless family lawyer Barry Zuckerkorn, who ranges from putting in dreadful performances in court to being involved in numerous shady sexual scenarios. Other big name stars who have made appearances on the show include Julia Louis-Dreyfus, Charlize Theron, Ben Stiller, Carl Weathers, Zach Braff and Jeff Garlin. Each episode of Arrested Development is superbly narrated by Ron Howard(who is also one of the shows producers), and his comical analysis and description of each character and storyline keeps the show flowing smoothly through each hilarious episode to the next. As the show progresses through the seasons, we see Michael struggling to stabilize the company while at the same time dealing with his unhinged family and also his own personal life. It is a joyous portrait of dysfunctional family life, with perfect character execution and some of the funniest script work of any show, and the decision to cancel it was a ridiculous one. If you haven't already heard of Arrested Development then I strongly urge you to check it out. Now it's just a matter of counting down the days until season four begins. Stayed tuned for our take on the greatest Arrested Development episodes so far.
We need more writers about Jason-Bateman, Michael-Cera, David-Cross and Arrested Development! Get started below...
Create Content and Get Paid
---