Arrow Season 7 Finale: What Does The Ending Really Mean?
It's the end of Arrow as we know it!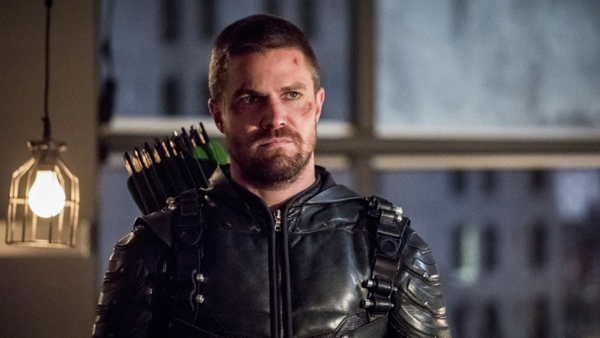 Contains spoilers from Arrow Season 7, Episode 22.
Arrow's seventh season came to a shocking conclusion when viewers were forced to bid farewell to not one but two beloved characters in a moment that shook the show to its very core.
Following the successful defeat of the Ninth Circle in the present-day, Oliver Queen and Felicity Smoak officially said goodbye to their Team Arrow cohorts as they ventured off to start a life together, away from danger. Unfortunately for them, that life together was cut short when Oliver received a painful reminder about a certain promise he made in regards to a certain Crisis.
Meanwhile, in the flash-forward narrative, an older Felicity allowed herself to temporarily celebrate the defeat of Galaxy One before she too found herself having to depart.
However, the one thing that ties both of these departures together is the God-like being known as The Monitor, who we hadn't seen since the Arrowverse's Elseworlds crossover.
With that in mind, viewers were left wondering just what kind of role he has to play in Oliver and Felicity's departures from their respective narratives and, perhaps more importantly, what this stunning ending means for Arrow's eighth and final season.