Arrow Season 8 Review: 7 Ups & 2 Downs From 'Present Tense'
The present and the future collide in one of Arrow's best ever episodes.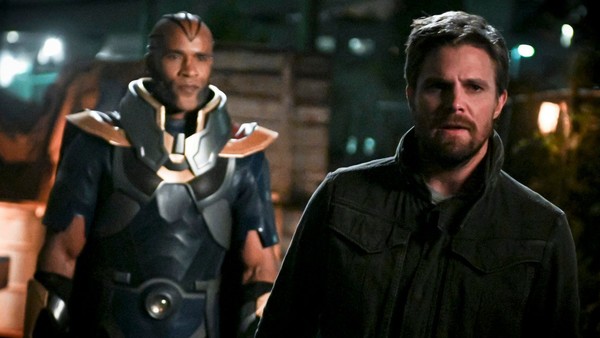 Contains spoilers for Arrow Season 8, Episode 4.
Arrow's final season has, much like the majority of the show's run, been a tale of two halves.
On one hand, we have Oliver Queen preparing for his final mission, as he sets out to save the multiverse with The Monitor's apparent guidance and assistance from John Diggle and Laurel Lance. However, the celestial being's behaviour has made the Green Arrow more vigilant than ever.
On the other hand, we have the flash-forward narrative which tells the story of Mia Smoak, William Clayton, Connor Hawke and the Canary Network set up by Laurel and Dinah Drake. Though it never carried the emotional weight that the primary narrative did, the cast elevated the material and proved themselves worthy of being the future's Team Arrow.
However, in a rather unexpected twist, last week's instalment somehow made both of those halves one, as an unknown force brought Oliver and Diggle's children to the present, leading to one of the most jaw-dropping cliffhangers in Arrow's seven-year history.
'Present Tense' picked up where that cliffhanger left off, successfully bringing the past and present together in what was yet another strong offering from what is shaping up to be one heck of a final season.
First, the negatives...