Arrowverse: Who Said It - Green Arrow Or White Canary?
Was it Arrow's Oliver Queen or Legends of Tomorrow's Sara Lance?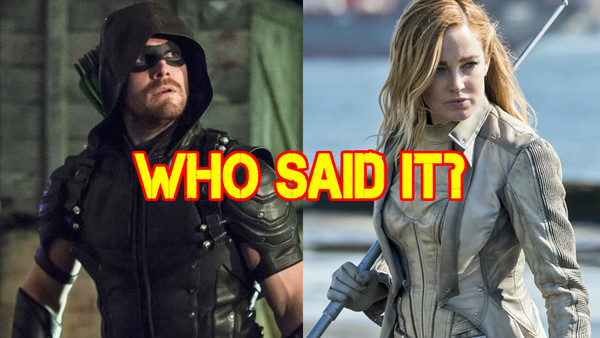 Right now, all Arrowverse eyes are on the impending, landscape-altering Crisis on Infinite Earths crossover that's looming large over this shared world of DC Comics heroes and villains. The stakes are high for Crisis, the cost will be plentiful, and two of the key figures of this huge crossover event will be Stephen Amell's Green Arrow and Caity Lotz's White Canary.
Both of these characters are mainstays of the Arrowverse, with Amell's Emerald Archer being the person to kickstart The CW's shared DC universe back in 2012. Since then, this world has been fleshed out across several shows and even over actual time and space. And that's where the Legends of Tomorrow team come into play, for Lotz's Sara Lance is the current captain of the Waverider crew tasked with protecting history - both past and future.
While Ollie and Sara are two of the most beloved characters in this shared realm, they're also two of the most strong-willed and quote-worthy. Barely an episode of Arrow or Legends goes by without one of them spewing a line or two of insta-quotable dialogue.
On that trail of thought, then, here are some of the most memorable lines said by Oliver Queen and Sara Lance - you just have to correctly identify which character said which line.
1. I Ruin The Lives Of Everyone That I Come Into Contact With. It Doesn't Matter Who They Are.