Brooklyn Nine-Nine And New Girl Will Have A Crossover Event Episode This Fall
Who's that girl? It's Gina!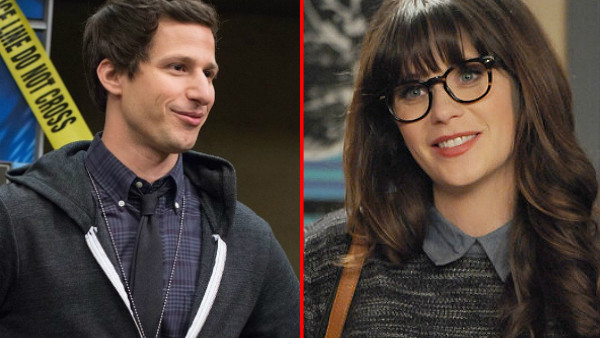 So, this one is a little weird.
Fox have announced that they'll be bringing together two of their biggest sitcoms later this year, with a crossover event planned between New Girl and Brooklyn Nine-Nine.
The episode, which will air on October 11 as part of Brooklyn's 4th season and New Girl's 6th, will see the characters from the latter head over to New York for the hour-long event. That makes more sense than doing it the other way around, and probably means police officer Winston will be quite involved, and we should have another return from Coach. Speaking of the event, Brooklyn Nine-Nine co-creator Dan Goor said:
"Brooklyn Nine-Nine crossing over with New Girl is very exciting, but (and this is supposed to be a secret) it's just the first step. Stay tuned for our two casts to do a soulful R&B number on Empire, co-anchor the Fox 10 O'Clock News and connect for a touchdown on Fox NFL Sunday. But in all seriousness, we're all huge fans of New Girl here at the Nine-Nine, and we're excited to see our characters interact and to work with their incredible writers and producers. And also to see what their craft services are like, compared to ours."
Not to be outdone in the not-so-serious statement department, New Girl creator Elizabeth Merriweather released one of her own, saying:
"The crossover episode has historically been the artistic high point of any show that has dared to attempt it. Maybe you remember 'Blackout Thursday' on NBC, or even further back the infamous Alf/Gilligan's Islandcrossover of the late 1980s. [We] will proudly and humbly go where few shows have gone since the 1990s. We know we have big shoes to fill, and we look forward to disappointing everyone. There's a 50% chance Alf will also be in both episodes. But there's also a 50% chance that is a lie."
It's certainly an interesting idea, and one that could actually work out pretty well. These Fox crossovers aren't anything new - they've had The Simpsons crossover with both Futurama and Family Guy, and also (and this is even stranger) Bones with Sleepy Hollow. By that standard, New Girl and Brooklyn Nine-Nine makes perfect sense, and with two hugely funny casts, there should be a lot of fun to be had here. And probably the biggest and best game of True American to date.
Are you excited for a Brooklyn Nine-Nine/New Girl crossover? Share your thoughts down in the comments.
Create Content and Get Paid
---