Brooklyn Nine-Nine Quotes Quiz: Who Said It - Hitchcock Or Scully?
Which one of these useless foodie detectives said it?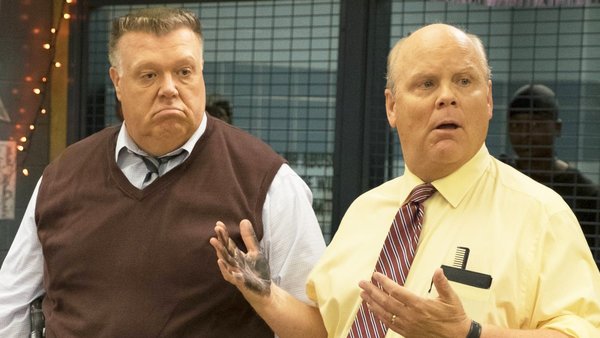 Brooklyn Nine-Nine has emerged as one of the most beloved sitcoms of recent times. The workplace sitcom had big shoes to fill in following after The Office and Parks & Rec, and it did just that.
Following the daily life of a New York police precinct and its detectives as they solve crimes, host Halloween heists and laugh it all away with countless 'title of your sex tape'. the police comedy has a dedicated fanbase. While the writing and humour is exceptional, a lot of credit bottles down to exemplary characters.
Leading the precinct is Captain Raymond Holt, the sensible, expressionless, yet uniquely hilarious mentor. He often serves as the father figure of the precinct, especially to Jake Peralta, who's primarily the leader of the lovable bunch of misfits that includes his lovable and loyal best friend Charles Boyle, his romantic half and obsessive perfectionist Amy Santiago, the terrifying Rosa Diaz, the muscular yoghurt lover Terry Jeffords, and the nightmarish receptionist Gina Linetti.
Also working in the squad are two of the oldest detectives - Hitchcock and Scully. Extremely lazy, sloppy, foodie and equally hilarious, the two idiots can go to any lengths to avoid work. While their asses share a special bond with the chair seats, they can get up if they smell delicious food.
Both Hitchcock and Scully are rarely the centre of storylines. more often lingering in the background with only a few lines each episode, but man, do they make it count. The two characters never fail to make fans laugh with their ridiculous antics, and the duo works perfectly when their personalities intersect, framing some of the most iconic B99 moments.
The two lazy foodies from Brooklyn share some of the most iconic sitcom lines between them. And while everyone knows the dynamic duo are a package deal, it's tough to tell Hitchcock and Scully apart. So, here's a quiz to test their fans.
Can you tell Hitchcock and Scully apart from these quotes alone?
Answers at the end!
1. "I Met My Wife At An Orgy."