Game Of Thrones: 8 New Pieces Of Evidence That Jon Snow Will Return
Don't worry. Jon always comes back.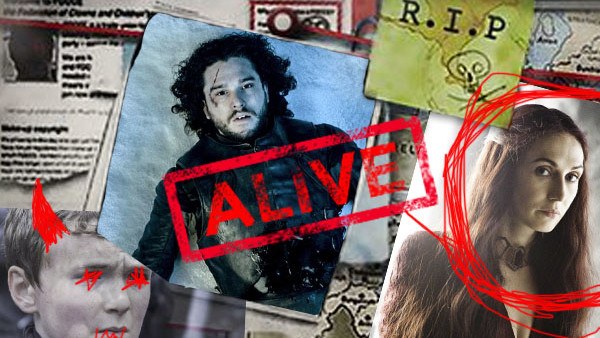 Jon Snow is coming back to Game of Thrones. That's officially the worst kept secret in television history, and despite HBO constantly saying that the character is really, truly dead, the evidence that he isn't gone for good has become overwhelming.
Are they really fooling anyone at this point?
In the days following Jon's shocking assassination in the Season 5 finale, fans were already speculating that he would be brought back to life in Season 6. Melisandre has the power to raise the dead, and she just so happened to arrive at the Wall right before Jon dies? The hints aren't exactly subtle. Besides, it just doesn't make narrative sense to kill him this soon, and author George R.R. Martin has all but confirmed Jon will be in the next book.
If all that wasn't enough to convince you already, ever since the finale aired, there's been even more pieces of evidence from behind the scenes and from the cast themselves. The official narrative is still that Kit Harington isn't coming back, but don't believe that for a second.
Running through leaked photos, quotes from the actors, and generally suspicious behavior on the network's part, here are 8 new pieces of evidence that Jon Snow will return to Game of Thrones next year.
8. Kit Harington Has Been Seen In Belfast
https://twitter.com/WatchersOTWall/status/626412236089589760

Here's the absolute biggest piece of evidence to come out since the finale aired: Kit Harington has been spotted in Belfast, where filming for Game of Thrones takes place. So that about settles that, huh? Fan site Watchers on the Wall posted pictures of Harington getting off a plane in Belfast with his Game of Thrones costars just in time for production on Season 6 to begin. Detractors of the Jon Snow truther movement suggested that either he was simply paying a visit to his friends, or he was showing up to play a dead body for a few scenes. 

Surely that wouldn't take very long, right? Over a week later, Harington was again seen in Belfast, this time hanging out with fellow Night's Watch member Ben Crompton (Edd). Supposedly, Harington has refused to take photos with fans while in Belfast in order to stay undercover, yet he has absolutely no problems taking pictures when he's anywhere else. 

So viewers are expected to believe that Kit Harington totally isn't coming back to the series, yet he happens to arrive on set as soon as filming begins and then he stays there for weeks. If he really was just playing a dead body, why not come right out and say that? Either Jon Snow is returning next season, or Harington is just really committed to screwing with people and giving them false hope.