Game Of Thrones: Sean Bean Reveals Ned Stark's Final Words, Sort Of
What did he whisper?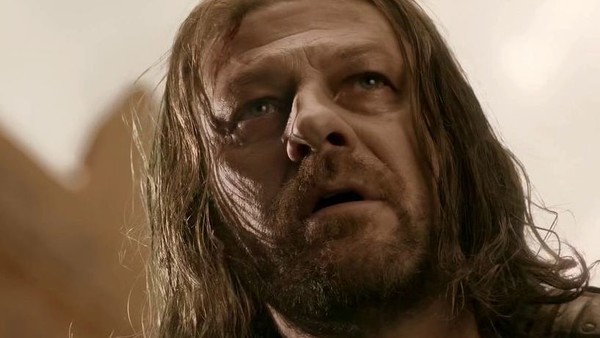 It's been seven years since Ned Stark was killed on Game of Thrones, but still his death lingers. It remains one of the most shocking moments in not only the show but TV history as a whole, and the character's influence continues to be seen in the actions of his children.
Ned has also been the subject of a number of fan theories about his death, or potential lack thereof, some of which stem from him whispering something at the Sept of Baelor just before his death. Some believed this to ba Valar Morghulis, in order to support the notion that Ned swapped places with a Faceless Man.
Now Sean Bean has had his say, and revealed just what Ned whispered in his final moments, sort of. He doesn't actually have anything specific, but speaking to the Huffington Post he revealed:
"[Ned was] just saying a prayer. It appears that way, doesn't it? I couldn't be too specific, because I don't know if religion [like that] was around in those days, whatever they were. I just thought, 'What would you do if this were really gonna happen?' You probably would pray. You probably would murmur some words and you'd keep it quiet. You'd keep it to yourself.
"It's quite subtle in that many people wouldn't pick it up. It was an interesting thing to do for me at that point. There's not much you can do really, you've got your head on a block. That's about the only thing you can do is murmur."
That makes sense, really, given Ned was a religious man (he kept the Old Gods of the Forest), and clears up what's been something of a long-running mystery. Bean also shut down the idea of a potential return to the series, saying:
"No, they've never said that. And yeah, I've heard rumors, but not from very good sources that I might be back. But I think I've done my time there, and I created a good character. It'd be rather strange to see him resurrected."
Create Content and Get Paid
---