Game Of Thrones Season 8 Breakdown: What The Ending REALLY Means
SPOILERS - Every hidden meaning in The Iron Throne.
So that's it. Game Of Thrones is no more. After an explosive final season that has been a rollercoaster of spectacle, fire and blood (not least among the fans), HBO's biggest show ever (hell, the biggest show EVER), the curtain has fallen on the Seven Kingdoms and the Saga of the Starks.
However you feel about that final season as a whole, there can be no denying that they stuck the ending. Those final moments were some of the most emotionally successful, satisfying scenes in television, and while the clamour for a redo from certain sections of fans will continue to grow (because they didn't get what they wanted), it was the right way to end it.
There was a lot in there to process, but luckily, for the final time, we're here to breakdown exactly what the episode - titled The Iron Throne post-release - really meant...
11. The Lovers' Embrace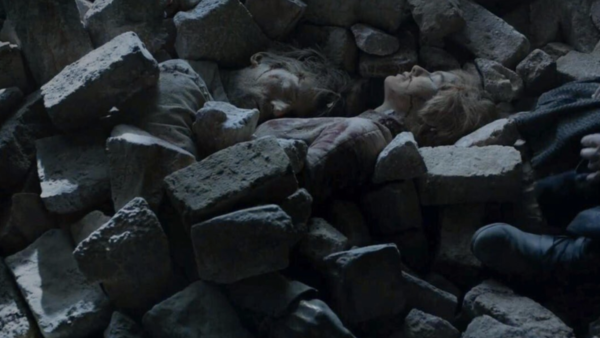 The episode began, as predicted, with the survivors surveying the cost of Dany's decimation of King's Landing. Primarily, we got to see this through Tyrion's eyes - and rightly so, because he had a huge hand in all of the bloodshed through his actions - and that's why the revelation of Cersei and Jaime's bodies was so surprisingly heartbreaking.
For all of their shared evil, the shot of them dead together in a lover's clinch, with Jaime's arm protecting his love was the perfect allegory for their entire relationship. And watching Tyrion weep over the siblings he had a fairly tumultuous relationship with for so long fit his strange narrative too.
In the end, allowing Brienne to write Jaime's history was a huge moment. As much as she could - and probably should - have taken the opportunity to copy Regina George's Burn Book sign off. Instead, she wrote his history to reclaim his name from his "Kingslayer" title. He died protecting his Queen, according to his official history and was finally freed of the image that wounded him so much - which he revealed to Brienne in his most vulnerable moments.