Game Of Thrones: 8 Things We Learned From "The Laws Of Gods And Men"
Apparently, accountants find Davos charming and persuasive. Who knew?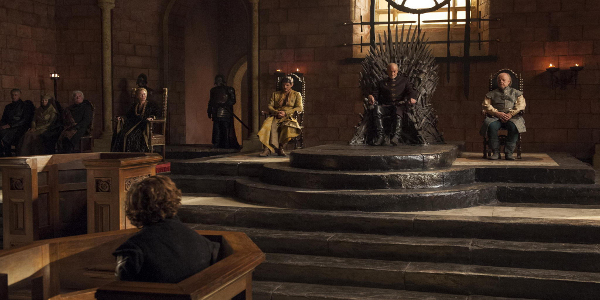 Last week marked the halfway point for Game of Thrones season 4, and now we€™re in the latter half of the episodes. It€™s been an eventful ride, but soon we€™ll have to bid farewell once again to the fantastic HBO show. However, there€™s still plenty of action, suspense and political drama to go around, and €œThe Laws of Gods and Men€ was no exception. While there have been many interesting plotlines throughout this season, arguably the most important one is the murder of King Joffrey Baratheon. Poisoned during his wedding feast in €œThe Lion and the Rose,€ his death has sent ripples throughout Westeros. While Tommen is now the king, the other primary concern has been seeing Joffrey€™s killers brought to justice. While the viewers know that the true conspirators were Petyr Baelish and Olenna Tyrell, the person arrested for the crime was Tyrion, who was arrested simply for being near the goblet that contained the poison when Joffrey died. He€™s been languishing in prison for the last several episodes, and although there€™s a trial to determine whether he€™s guilty, he figures it won€™t be a fair trial. A wise observation. In €œThe Laws of Gods and Men,€ we finally get to his trial, and as you€™ll soon read, everything pretty much goes to hell. However, there€™s more than just courtroom drama. We get economic developments, property settlement, a rescue mission and more. Admittedly these may not be as exciting as witnessing a graphic battle, but not to worry. This is certainly an important episode of Game of Thrones. For those that haven€™t read the books, don€™t worry. This will only cover the events in the TV series. So finish your prayers to the Seven Gods (or Lord of Light, depending on your upbringing) and check out what we learned in €œThe Laws of Gods and Men.€