How AEW Is Able To Use The FTW Title
How AEW is able to use the FTW title despite WWE owning all ECW trademarks.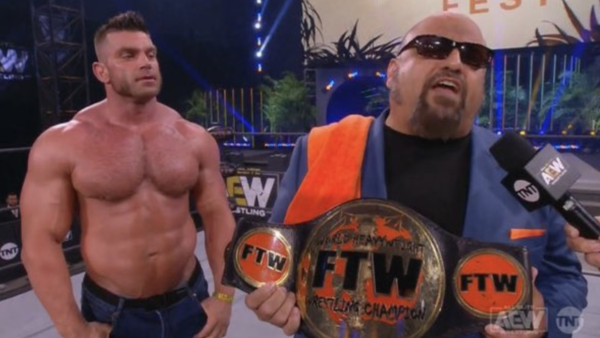 In a moment that was meant to "send shockwaves through the pro wrestling world," Taz revived the long-dormant FTW (F*ck The World) Championship on Night 2 of AEW Fyter Fest, bestowing it onto his charge Brian Cage as compensation for his not being able to challenge Jon Moxley for the World Championship.
While this ignited nostalgia among ECW die-hards, it's also raised questions as to how exactly AEW is able to use the belt, considering that ECW and its trademarks are owned by WWE. The answer is deceptively simple: ECW doesn't own the belt.
In both kayfabe and in real life, the FTW belt was the sole creation of Taz, who owns the rights to both the name and the design, which he made himself. Since ECW never held the rights, Taz maintained ownership after ECW was bought by WWE.
The actual belt proper is the very same belt from 20-plus years ago, which Taz as held onto for all these years. Taz infamously was very protective of the belt, going so far as to write his name in permanent marker on the strap, much to erstwhile champion Sabu's annoyance.
Cage is now the official FTW World Champion and is billed as such, but as the belt is unrecognized by AEW, it's not clear how it will feature on programming going forward.
Create Content and Get Paid
---