Netflix's Haunting Of Hill House Is Coming To Universal's Halloween Horror Nights 2021!
Are you brave enough to enter Hill House? If you are, will you make it out?
Universal Orlando's Halloween Horror Nights has announced another maze in its line up and things are about to get spooky.
A house based on Netflix's The Haunting of Hill House will be coming to life at this year's HHN. Based on the first series of the supernatural show, you will follow in the footsteps of five siblings as they experience the horrors of their childhood home.
As you walk through this house you'll find that Hill House is the main character in this ghost story. Travelling through the decaying mansion you'll "realize that you're becoming a part of this ghostly world".
Of course it wouldn't be a ghost story without the haunts of Hill House. Just like in the show you will need to keep your eyes peeled for all those that stalk the halls of the mansion. Some of the ghosts are more prominent than others, including the Tall Man and of course the Bent-Neck Lady.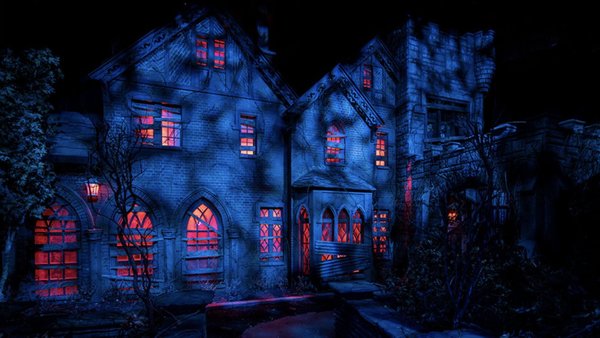 The ghosts aren't the only thing to watch out for. You'll find yourself in the very "stomach" of the Hill House in the Red Room. Will the house "digest" you or spit you back out?
Fans of the show should keep an eye out for a few Easter Eggs, including props and intricate details that only "true fans" will be able to spot.
Universal Orlando have said that this house will be nothing like any you've experienced at the event before. The team behind the Haunting of Hill House maze have kicked up the creepy scale, creating a house that's full of sinister feelings.
Not just running at Universal's Orlando park, guests on the West coast will experiencing the Netflix show at the return of Universal Hollywood's Halloween Horror Nights.
Guests can enter The Haunting of Hill House on select nights from 3rd September in Orlando and 9th September in Hollywood. Both events will run up to 31st October. Tickets are already on sale at the Halloween Horror Nights website.
Will you be braving The Haunting of Hill House?
Create Content and Get Paid
---