Praise The Lord! AMC Renews Preacher For Season 2
The salvation shall continue.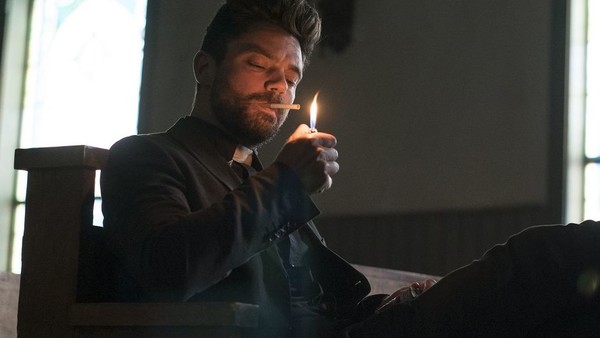 Despite Preacher only being halfway through its first season, AMC have already decided that the show will be getting a second.
The series, created by Seth Rogen, Evan Goldberg, and Sam Catlin, has proved to be a big success for the network, garnering some strong reviews and pretty solid viewing figures as well. The show tells the story of Dominic Cooper's Jesse Custer, a small-town preacher on a mission to find God and is accompanied by Tulip, his gun-toting ex, and Cassidy, an Irish vampire.
So far it's been about as crazy as you'd expect from that setup, and is wonderfully violent, over-the-top, and wickedly funny. With five episodes left of Season 1, AMC have decided not only will it be coming back, but it'll be getting an extended run of 13 episodes to boot. Of the decision, AMC president Charlie Collier said:
"Preacher is a special television program and we're eager to share with fans the rest of this wild first season and, now, an expanded second season. What Sam, Seth, Evan and the entire creative team have achieved in bringing Garth Ennis' graphic novel to the screen is extraordinary. We look forward to more time with these unforgettable characters be it in Heaven, Hell, Texas or beyond."
Given that the show has been taking its time in setting up Custer's journey, and that there's plenty of source material to get through, a second season makes sense, and it's great to hear that AMC think the same way.
What do you think of Preacher so far? Happy about Season 2? Share your thoughts down in the comments.