Red Dwarf Turns 30: Interview With Co-Creator Doug Naylor On The 30th Anniversary
1. Red Dwarf XII And The Future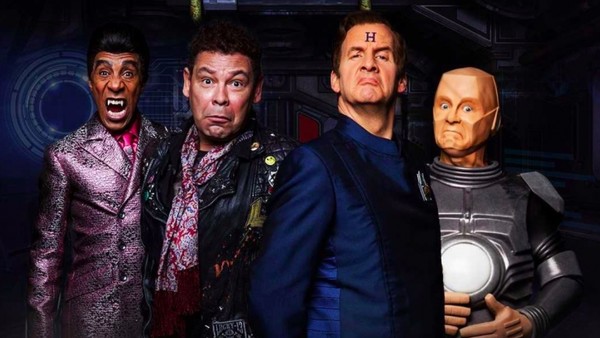 Red Dwarf XII aired on Dave last year. Were you pleased with the way it was received?
Yeah, all the Dave seasons have been well received. We were named as Best Returning Comedy by the British Comedy Guide again this year, and that's great along with the good ratings because you don't expect to win anything when you've done as many shows as us. We're up for a couple of other awards, and it's great that we're getting strong ratings and decent reviews. I'm really pleased with that.
Did you ever consider putting Kochanski in the latest Dave seasons? Could she possibly return in the future?
I'm not sure whether she will show up again, although I do have some ideas I may well use in the future. For the latest Dave seasons, we didn't consider including her because we wanted to keep the focus on the four boys for the most part. I wrote and directed 12 shows on the bounce for Dave, so I thought keeping things simple was the way to go. I'm open to working with other directors on Red Dwarf in the future, but there were real benefits to me directing, at least in terms of speed
What does the future hold for Red Dwarf? Will you do another season for Dave?
Yeah, absolutely. We're just trying to work out how and when. Everyone seems to be keen so I think that will happen. There's also talk of a stage show. Again, I'm not sure when, but I'm confident that will happen too.
The last few season of Red Dwarf have gone back to basics. Are you likely to revisit the narrative-driven format with continuity between each episode again?
We were talking about this recently. The thing is, the fans seem to like single episodes that wrap up and don't seem keen on two-parters, so we kind of avoid those. Obviously there are budgetary constraints we have to adhere to, so it's not a question of 'if you had a limitless budget, what would you do?' We have to work with what we have, which is why there was no location shooting in season 10. We managed to get a few days for 11 and 12 and split them over the two seasons. There is a possibility we'll experiment with the format again, like we've done in the past.
On the subject of the ill-fated Red Dwarf movie, is a film still possible in the future?
I would say the movie is probably third in the line of things to do. The order will probably be another TV series, a stage show and possibly a movie, and I think the guys agree on that. The film is a long shot at this point just because it can take so long to get funding. While people are happy for us to make TV series and stage shows, and the money is there for us to do it, obviously we'll do those things since they're guaranteed. I haven't discussed the idea of a movie with the guys for a while.
Is Red Dwarf a show that will one day have a definitive, rounded conclusion, or will you continue to make open-ended episodes indefintely?
It's hard to say because I don't know when it will end. I've asked myself before 'if this ends up being the final ever episode, would it be a good way to end Red Dwarf?' I know Larry David regrets the way he ended Seinfeld and wishes he kept it open, and that's something I keep in mind when I consider how Red Dwarf might end, but I can't say for definite that's the way I would wrap it up. My feeling right now is to keep it open-ended, although I do have a story for if we decide to give it a finale.
Are you a fan of Red Dwarf? What are your favourite moments from its 30-year run? Let us know in the comments section below!