Rosario Dawson Wants To Play 'Q' In Star Trek: Picard AND Discovery
Marvel and Mandalorian star has her heart set on Trek role.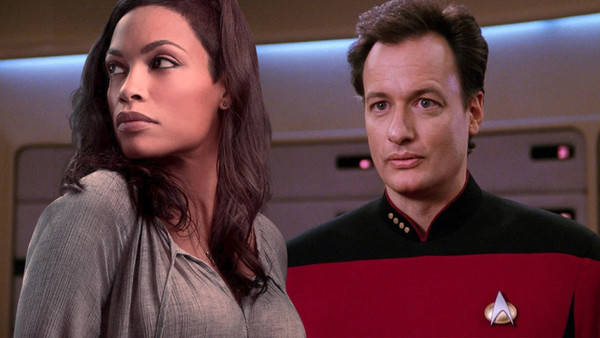 Rosario Dawson's personal quest to make an appearance on Star Trek boldly took another step forward recently, as the actress reiterated her career-long dream in an interview with Variety.
Speaking about her current role on Briarpatch and her recent casting announcement for The Mandalorian, Dawson spoke about her intense desire to add both Star Trek and Star Wars to her CV in the coming years.
"I'm hoping, and I'm not trying to be greedy, but since we are talking about Star Wars and we are talking about fan-casting, if I get Mandalorian it is a million and one percent because of fans, also the Star Trek, okay. That's it. I am just putting it out there. The two universes: Star Trek and Star Wars. I get in those two, I am telling you, that's it. I will just retire."
While Dawson very publically made a plea to J.J. Abrams to be included in his recent trilogy, and even spoke Klingon with an impressive fluency on the Conan O'Brien show, a part has thus far never materialised for her. This despite her vocally saying she'd be willing to play anything in order to feature somewhere.
"I was thinking that I know people who do makeup on it and I could just be a background Romulan or Vulcan or whatever. It would be so fun to just throw me in there. I could just walk through as a Klingon. Just something in the background. And my brother got really mad and said "absolutely not!" I was thinking I could just be a red shirt, who always get killed.""He was "No! We talked about this. You have to be a captain!" He plays the Star Trek Online game and does missions and thinks I have to at least be a captain. But then my dad said I should be Q. Because male Q, female Q, young Q. They are all just Q. It's the Q continuum. It would be great. Then I could jump on Discovery and I can be on Picard. I just want to be on with Jean-Luc Picard."
There is precedent for a female Q, with one featuring in an episode of Star Trek: Voyager and, even if there wasn't, the precise makeup of the Continuum is such that it wouldn't matter anyway. Regardless, with Dawson being a genuine fan, casting her in a series somewhere - be it Picard, Discovery, the upcoming Pike series, or even all three - would likely be a hugely popular decision.