Only Sherlock Could Deduce Why Holmes & Watson Are Victorian
Christmas special first look!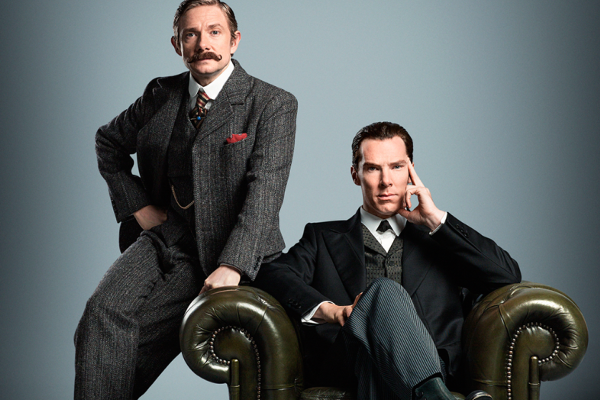 What's the one thing that sets Sherlock apart from any other Arthur Conan Doyle adaptation? Besides the magnetic chemistry between Benedict Cumberbatch and Martin Freeman, it's that Steven Moffat and Mark Gatiss updated the Victorian-era detective to the modern era. So of course the upcoming Christmas special goes back to the past. They've not explained how exactly the modern-day Holmes and Watson are gonna skip back in time a hundred or so years, nor if or how it'll connect up to the overarching story of previous Sherlock mysteries, but the BBC have at least revealed the first official image from the Christmas special. There's some interesting era-appropriate facial hair going on. Other than the time setting and this image, there's been little info released about the new Sherlock so far. This one-off feature length mystery will be on telly over Christmas, before a fourth season proper which will explore the major consequences of the last batch of episodes. Apparently the different era will let the writers explore some new dynamics. The biggest question is what are they gonna do to replace those omnipresent on-screen text messages everybody's always receiving on the show? On screen telegrams? Messenger pigeons mysteriously sending Sherlock messages? At the very least they've gone the non-traditional route of avoiding the deerstalker hat on Holmes. Expect some more Sherlock news during Steven Moffat and executive producer Sue Vertue's panel at Nerd HQ during Comic Con. The Sherlock Christmas special will air in December, obviously.
Create Content and Get Paid
---