Star Trek: Patrick Stewart's Picard Returning For TNG Sequel Series?
Make it so.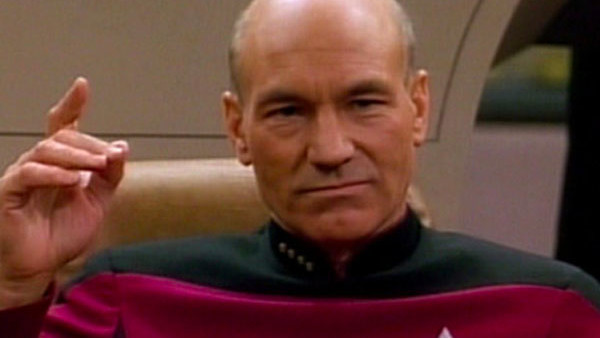 CBS are currently developing as many as five potential new Star Trek series, and one of them is set to bring back a very familiar face.
Earlier this month, Patrick Stewart caused a bit of a stir when, asked by Red Carpet News if he'd seen any of Discovery, he replied that he hadn't but "I may have good cause to look at it very soon."
That led to speculation he might be cameoing in Discovery itself, but it turns out it's a much bigger deal. According to The Hollywood Reporter, among the new series being developed by Alex Kurtzman is a sequel series to The Next Generation, which would be led by Stewart reprising his role as Captain Jean-Luc Picard.
It's important to note that THR's sources indicate a deal is some way off being completed, but it would undoubtedly be a huge coup for CBS to bring Stewart back to one of his most beloved roles.
The thespian played Picard on TNG from 1987-1994, helping create one of the most iconic and popular series in the franchise along the way, but hasn't had a leading live-action TV role since (although he has been a regular voice on American Dad).
Do you want to see Stewart return to Star Trek? Let us know down in the comments.