The Simpsons: Every Crossover Episode Ranked - From Worst To Best
It's a small (animated) world after all.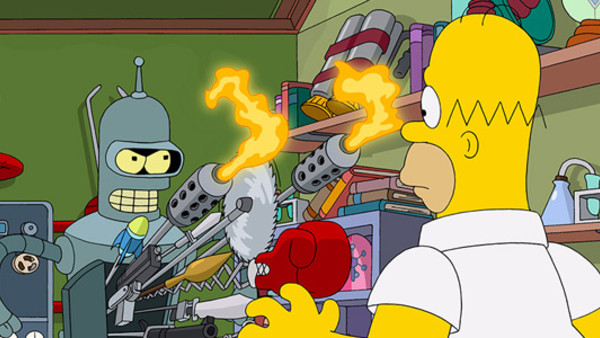 Season twenty-six saw The Simpsons break new ground by crossing over with two other big animated sitcoms: Family Guy, once seen as an heir to The Simpsons throne, and Futurama, created, as was The Simpsons, by cartoonist Matt Groening.
Crossovers on The Simpsons generally come few and far between: the show, while openly lampooning popular culture on an almost weekly basis, and featuring guest star after guest star (often in cameo appearances playing themselves), generally sticks to its own little world. Rarely have other animated icons - or characters from other shows in general - appeared on the series, which is what makes two in one season, and full blown episodes as opposed to just minor cameos , so special.
Of course, those weren't the first times characters from other series have made appearances, or even the best of the crossovers the show has had. And with that in mind, lets take a stroll back through Simpsons history and rank the eight most notable crossovers the show has seen. Please take note: in this particular case, "cameo" crossovers will count, and not all of these episodes are considered canon, for either series involved - but they are, however, a lot of fun.
8. American Idol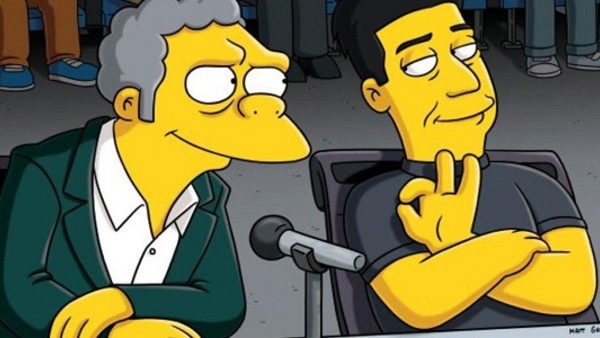 Perhaps the most lackluster crossover effort in Simpsons' history (and that includes several cameos), the cast of American Idol appearing on the show in 2010's Judge Me Tender, the season finale of season twenty-one, can best be described in two words: ratings grab. Of course, that's generally true of almost any crossover, but in the case of American Idol's go at it, it was particularly blatant.

How so? Well, American Idol was still - sort of, we suppose - a big deal at the time. Simon Cowell was still enough of a TV villain to come in as the "bad guy." However, the two shows appealed to vastly different audiences, and American Idol is the type of show The Simpsons would generally be a little more critical of. However, being on the same network was something the producers couldn't/wouldn't ignore, and a straight-forward crossover where all the judges showed up on The Simpsons - and Moe became a new judge on the show - was filmed.
While Moe being a mean judge was good for a laugh, and Cowell's ploy to trick him into toning down his criticism (in order to save his own spot) works, the episode overall was just a celebrity filled letdown, more William Hung than Kelly Clarkson or Carrie Underwood.