Watch: Breaking Bad's Awesome Leaked "Alternate Ending"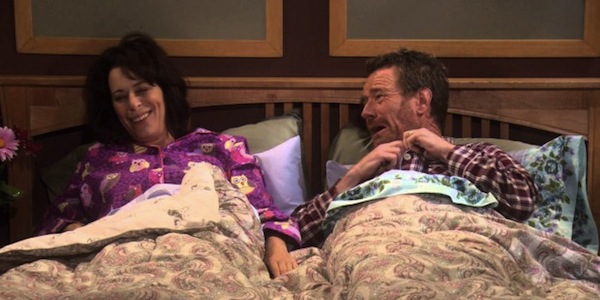 Although the dust settled a while back, everyone still seems to be mourning the loss of AMC's Breaking Bad. Sure, the series is finished and the storyline has been all wrapped up, but don't fret, faithful viewer: this weekend yielded something that is pretty much destined to become an internet sensation. Yes, an "alternate ending" for Breaking Bad's final season has leaked and it is - in one word - amazing. As you can see from the video above, it's a rather different ending to the one that we saw a few weeks back. This time around, we visit Jane Kaczmarek and Bryan Cranston as they reprise their Malcolm In The Middle roles as Lois and Hal respectively. After Hal awakens from a bad dream one night, it's revealed that the entire series of Breaking Bad was, in fact, a dream brought on by eating "deep-fried Twinkies." "You cooking anything?" Kaczmarek asks as Lois, whilst Cranston's Hal recalls all kinds of "Breaking Bad" details, such as Tuco's uncle who didn't speak and "man-child" Jesse Pinkman. "He used the b-word a lot," he says. This "dream ending" is a spoof of a cliché that was very popular in the television shows of the 80s and 90s.
The Huffington Post
claims that this ending is a nod to how The Bob Newhart Show ended. Kaczmarek was said to have been spotted on the Breaking Bad set during filming. This set rumours a blaze that something was in the woks, but these were foiled via a fake Twitter account and a set of counter rumours that her son would be an extra in the hit show's last episode.
This rare alternate ending is set to be a part of full series set that will be released at some unknown point in the future, so - quick - enjoy it before it gets pulled and let me know what you think of it in the comments below.
Want to write about Breaking Bad, Bryan Cranston and Malcolm in the Middle? Get started below...
Create Content and Get Paid
---
Darragh O'Connor
Roman Historian, computer nerd, Freelance Journalist, Podcaster, Star Wars Fanboy, and a Sci-fi/Horror über fan with a soft spot for awesomely terrible films. Host of the weekly Wrestleview International Desk radio show on WViDesk.com. Feel free to follow me on Twitter @DarraghWV.
See more from Darragh