What Game Of Thrones Owes To George Lucas
"How about he says 'How-zee doo-zee? Mee-sah Three Eyed Raven'?"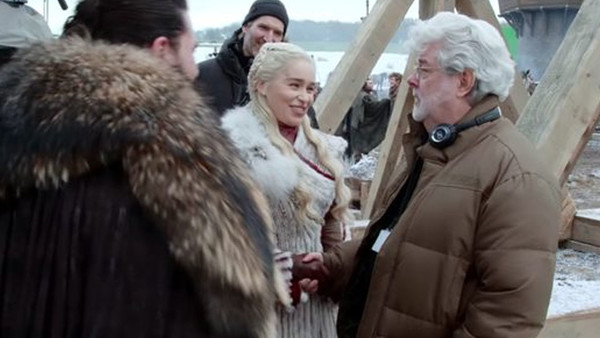 Game Of Thrones obviously relies heavily on a man called George who likes to defy fans provocatively, has a beard and a penchant for underdogs and orphans and is as enigmatic as some of his characters. But you might be surprised to learn that the premiere of Season 8 of the show also turned to another director who fits that exact same bill.
As well as revealing that Kit Harrington almost lost a testicle to his dragon riding sequence (and who says acting is an easy life?!), the 17-minute behind-the-scenes companion featurette released to tie in to the premiere also confirmed George Lucas' involvement.
The Star Wars supremo was doing what all billionaires with lots of time on their hands would do - hanging out on the Game of Thrones set while David Nutter was directing the opening episode. In fact, he was doing more than that: he was sitting at Nutter's side for at least one scene and Nutter asked him at one point to talk to Harington and Clarke about their performances.
The video reveals that he gave Harington some "encouragement":
"No direction for you. I don't really care about you. I don't care what happens to you."
Shocking stuff. It's not like George Lucas to misread the importance of a fan favourite character!
Clearly, that was a joke, but it seems Lucas did have some actual input on the axe scene, which saw Game of Thrones writer Dave Hill starring as an unfortunate Iron Born who gets his face split open.
David Benioff also reveals that when he heard that Lucas wanted to visit the set, he thought it was a practical joke and it wasn't until they realised he was for real that they "got really excited and then nervous because it's George Lucas":
"The first time I can remember telling stories was me as a kid meshing together these little stormtrooper dolls. He's the one who started our obsession with this kind of epic storytelling."
And now the story is coming full circle as the Thrones showrunners are the next directors to steer a major new Star Wars movie project. Life's nice like that sometimes.
Here's the video in full:
Game Of Thrones Quiz: How Well Do You ACTUALLY Know The Show?
1. Who Is The Very First Character To Die?
Create Content and Get Paid
---