Why Ghost Rider Just Got Cancelled
Another Marvel character coming home to the MCU?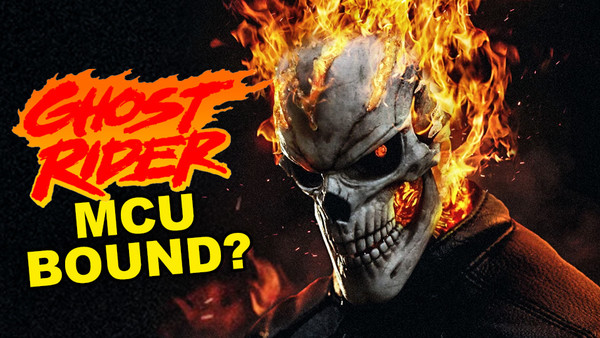 Hulu's Ghost Rider is no more.
Even as Marvel Studios cleaned house and ended the Netflix MCU-ish shows and Agents of SHIELD closed its doors, it looked for a while like Ghost Rider was going to buck the trend and continue on as a spin-off thanks to Hulu. After all, Disney are the majority shareholder in that particular platform and it's being used as a complementary service alongside Disney+ rather than as a competitor when it launches in November. That seemed to suggest Ghost Rider would be pretty safe.
Unfortunately for fans of the flame-headed one, though, news has just broken that Hulu have killed the show, opting not to move forward with plans to make it even before it got off the ground.
According to Deadline, the streaming service has cited "a creative impasse which could not be resolved," which presumably means they were struggling to work with someone on-high.
The plans were originally to have Gabriel Luna return as Robbie Reyes after his popular debut on Agents of SHIELD and only a matter of weeks ago he spoke to io9 about his excitement at the prospect. His statements also seem to suggest that they were well into the creative process too, so this cancellation looks like a late-day development:
"I love that we have a whole wonderful, beautiful writer's room right now, just exploring Robbie's psychology. We get to continue to add to the canon, because it seems like everything we do with Robbie is just we're pushing the canon. He's existed since 2014. So we're just adding more and more and more to this great story of Robbie Reyes' Ghost Rider."
You could immediately leap to conclusions about Marvel being the issue, which they were immediately suspected of being when the Netflix shows dried up, but the strange thing here is that there are lots of other ongoing Hulu Marvel projects that suggest the underlying relationship is fine. There's Helstrom to come, Runaways will return for its third season and those interesting animated shows for MODOK, Hit-Monkey, Tigra & Dazzler and Howard The Duck will also launch there. And as I say, Disney own Hulu just as they own Marvel.
So what gives?
Well, not to be impolite to those other characters currently on Hulu or about to debut there, there's something that probably unifies them all. If Kevin Feige or Marvel Studios wanted to use them in a substantial sort of way, they'd already either be in the movies (as more than cameos) or they'd have been lined up for a Disney+ show. The fact that they are allowed on Hulu suggests that's just not a consideration.
That would also fit with a report coming out from Daniel Richtman, aka Twitter scooper DanielRPK - who does have a track record of getting some things right sometimes - suggesting that Ghost Rider was cancelled because Kevin Feige has his own plans for the character in the MCU.
He's citing his own Marvel sources to suggest that Marvel TV boss Jeph Loeb initially had plans to bring several supernatural Marvel characters together under Hulu's Adventures Into Fear line-up. Those would have included Blade, Moon Knight, Werewolf By Night and Midnight Sons alongside Ghost Rider, which makes for intriguing reading.
Reading is where it will stop though, because Richtman says Kevin Feige put a stop to those plans by taking over a majority of those named characters. Blade had been lined up for a Hulu debut too according to the Marvel rumour-mill, but then he became the highest profile new addition at Comic Con and then Moon Knight was announced for Disney+ at D23 weeks later. If Ghost Rider follows onto the platform or into a movie in the near future, that'd make a pretty tasty hat-trick. Thoughts out to Loeb though.
It's a shame for Luna, because his performance as Reyes was legitimately very good. But like Charlie Cox, Kristen Ritter and Mike Colter's performances for Netflix as the Defenders (there was that other guy, but he's not really springing to mind right now, for some reason), he looks to be a casualty of the brave new Disney+ era.

What do you think of this news? Share your reactions below in the comments thread.
Create Content and Get Paid
---