5 Ups & 2 Downs From UFC 248
What were the big highs and major lows from the latest major UFC PPV?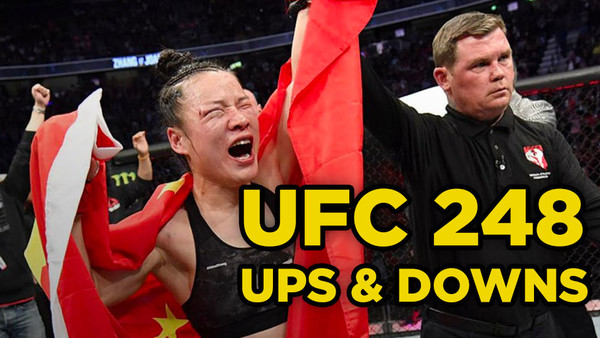 Despite a lacklustre main event that failed to live up to expectations, UFC 248 was actually a really good card, full of comeback victories, epic battles, triumphant returns and plenty of quality finishes sprinkled throughout.
Israel Adesanya and Yoel Romero left the fans at the T-Mobile Arena extremely frustrated as they anxiously waited for both men to land big shots that felt promised, but never came. It left a bad taste in the mouth of those watching the highly-anticipated match and we'll be getting into everything that happened - and didn't happen - during their title fight.
However, the crowd in attendance certainly weren't starved of action throughout the entire night though as Zhang Weili and Joanna Jędrzejczyk had the best fight in UFC strawweight history. Neither woman was willing to back down, which led to them trading power punches throughout their 25 minute battle. It's an instant classic that will definitely need repeat viewing.
Those two fights weren't the only ones on the card and there's plenty to discuss following a really fun night of action, so we're back with our regular post-UFC pay-per-view breakdown of all the ins and outs of big card in Paradise, Nevada.
Let's begin with the negatives...
Downs
2. Not So Great Dane
Following his rather impressive UFC debut, there was a lot of hype surrounding Mark O. Madsen leading up to this fight against Austin Hubbard at UFC 248. For two out of the three rounds, Madsen didn't disappoint, showcasing the Greco-Roman wrestling that made so many point towards him as a future threat in the lightweight division. However, there were a few flaws in his skillset that made us question whether or not he's ready for a step-up in competition.
As expected, his striking wasn't quite as good as his grappling skills, but it was scarily evident against Hubbard, who did some fantastic work on the feet against the Dane. This was especially true in the third round when the 28-year old Denver, Colorado native decided to let loose and throw some powerful shots that stunned Madsen. The change in performance from both men it seem that if this was a five round fight, the outcome would've been very different.
Madsen mentioned in his post-fight interview that he wants to fight the best fighters in the division, but he'll need to really improve on his striking if he has any hope of getting close to a title.