8 Times Fighters Won When They Should Have Been DQ'd
These fighters utilised illegal techniques and came out with a victory.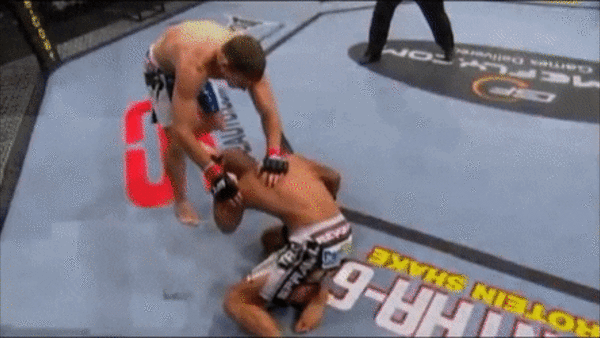 Compared to most professional sports, MMA has a pretty lax ruleset. I mean sure, fighters need to remember not to stomp their opponents in the head while they lay prone, and to avoid targeting eyes, or groins, but apart from that there really isn't all that much to fall afoul of throughout the course of a fight.
Even when compared to other combat sports such as boxing, the rules of MMA are pretty unrestrictive, so you'd assume that infractions are rare, right?
Wrong.
Though they generally aren't to the level of those seen in the fights featured on this list, it isn't out of the realms of possibility for fighters to commit fouls that go unpunished throughout the course of a bout. From a fence grab to defend a takedown, to the threat of an eye-poke to dissuade a would-be infighter from closing the distance, it is far from uncommon to see the rules of MMA flouted in the cage, with referees often failing to properly sanction offenders.
Sometimes though, fighters can commit more than just a petty infraction. This almost seems like karmic justice when they go on to lose their fights, but, unfortunately, knowingly or otherwise, these guys bent the ruleset to their advantage and went on to get the win.
8. Santiago Ponzinibbio Rakes Gunnar Nelson In The Eye Before Knocking Him Out
One of the most common rule infractions in all of MMA is the eye poke.
Due to the fingerless design of MMA gloves, it's not exactly surprising that fighters will often retreat with outstretched fingers in order to maximise their reach, inadvertently poking their opponent in the eye in the process.
This has proved a bigger issue in the UFC than it did in promotions such as the former Japanese MMA giant PRIDE, which may be due to the design of the gloves, that UFC president Dana White has been attempting to remedy for years now.
When an eye poke is involved in the finishing sequence of a fight it is even more frustrating for both the fighter affected and also for fans who are left wondering how the fight would've played out if the foul hadn't taken place.
A prime example of this came when welterweight contenders Gunnar Nelson and Santiago Ponzinibbio faced off in the main event of UFC Fight Night 113 in Glasgow. As Nelson closed the distance to attack with an uppercut, Ponzinibbio's outstretched finger caught the Icelandic fighter in the eye, and within a minute, Ponzinibbio capitalised and Nelson was KO'd.
Though the offence almost certainly wasn't intentional, Nelson's attempt to have the result overturned was denied, and Ponzinibbio was given a $50,000 Performance of the Night bonus.