10 Awesome WWE Matches You Might Have Missed In 2017
Alternatively: Neville's greatest hits.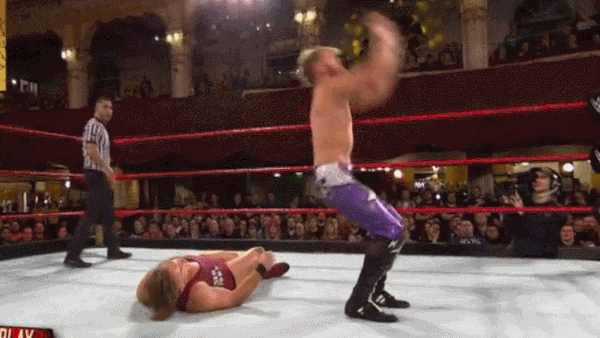 It's a sorry fact that there is simply too much WWE content these days for fans to be able to recall every single moment of it.
From 2017, we all remember Undertaker's heartbreaking final moments in the WrestleMania ring with The Big Dog, Kurt Angle becoming an honourary member of The Shield at TLC, and, of course, Vince McMahon getting his skull smashed in by Kevin Owens on SmackDown.
Unfortunately, however, the moments - and, more to the point, matches - that we've tended to forget about usually involve wrestlers who need every drop of exposure that comes their way.
This applies, most obviously, to the sometimes forgotten casts of NXT and 205 Live, who are often responsible for some of the WWE's best and most compelling work, but often fail to get any sort of recognition because so few viewers tune in every week.
So here's a celebration of the great matches they put on during 2017 - plus, of course, a smattering of others involving those aforementioned limelight-hogging superstars (even their matches are, for one reason or another, occasionally lost to history)
10. Kalisto Vs. Apollo Crews (Extreme Rules 04/06)
Nobody really pays any attention to WWE pre-show matches - not even the assembled panel of wrestling legends, who often spend no more than 30 seconds reacting to it before plugging the Network - but, sometimes, we really should.
Neville versus Austin Aries at WrestleMania is hardly a secret, but Kalisto's bout with Apollo Crews a couple of months later at Extreme Rules kind of is. It's a match that no-one, in the aftermath of the show, really spoke about, despite it being a really solid 10-minute bout that dwarfed many of those on the main card.
Won by Kalisto after some Titus Worldwide in-fighting, the bout delivered in hyping up the crowd as it began to filter in - mainly, it must be said, as a result of the King of Flight's incredible air-based offence, but it wasn't without some contribution from Crews too.
It's a reminder of how much depth the WWE roster currently has. Both these competitors have been left with very little to occupy their time this year, despite the sort of talent that, in previous eras, may have stood out to a far greater extent