10 Best ECW Tag Team Champions Ever
9. Chris Candido And Lance Storm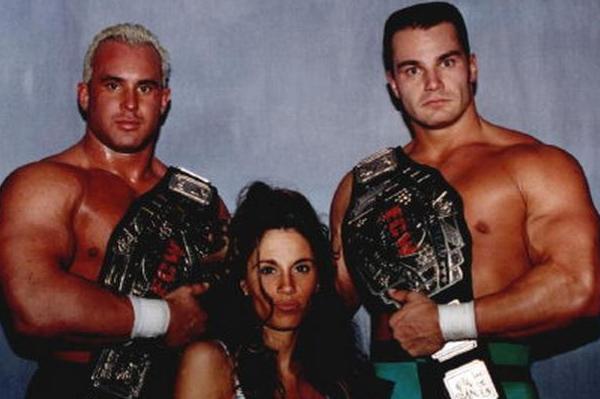 The pairing of Chris Candido and Lance Storm was considered a horse of a different color and paid off in creative dividends. Candido recruited Storm as a junior member of the Triple Threat faction helmed by Shane Douglas, which made sense considering Candido was an established star in the company while Storm was relatively new. Their dynamic changed over time as Storm€™s association was kept away at arm€™s length by Candido. In January of 1998, Candido and Douglas turned on Storm, not only revealing that Bam Bam Bigelow was the real third member of the group, but that Storm€™s membership was never considered. The Storm vs. Candido feud heated up as ECW forced them to fulfill their obligation as tag team champions. They even main evented the company€™s third pay-per-view,
Living Dangerously
, on opposing sides of a dream partner tag team encounter. Storm would attempt to use Candido€™s longtime girlfriend, Tammy Sytch as his partner until she turned on him. Chris Candido and Lance Storm would drop the titles three months later and continue their feud into the summer of 1998 where a role reversal of sorts took place with Storm turning heel. Despite the drama, that encapsulated their pairing, and they go down as the longest reigning tag team champions under the banner of extreme.
Atlee Greene
Atlee Greene is a freelance writer for various sites, including ForcesOfGeek.com, Gerweck.net, CamelClutchBlog.com, and WhatCulture.com. He is also a former independent professional wrestler and promotes shows in the Massachusetts area.
See more from Atlee