10 Best Heel Turns In Wrestling History
5. The Mega Powers Explode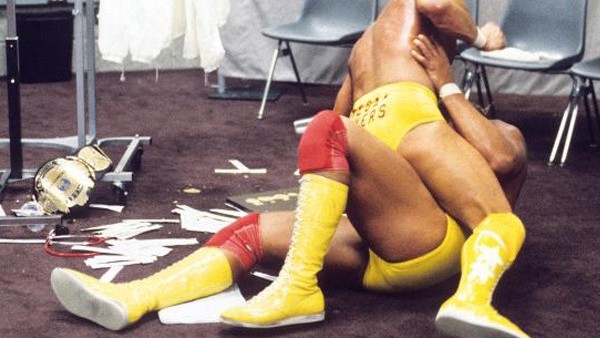 The relationship between Hulk Hogan and "Macho Man" Randy Savage was certainly a complex one. The Mega Powers originally formed in 1987 and teamed up several times to take on the giants of the WWF. Savage won the WWF world title at WrestleMania IV thanks to Hogan's help and the team won its feud against Ted DiBiase and Andre the Giant. Everything was rosy and the two muscle-bound oddballs made for a cohesive unit. However, cracks began to show in the relationship as Savage began to distrust Hogan.
At Survivor Series 1988, Hogan got a little too friendly with Randy's wife/valet Elizabeth during the post-match celebration, and it got worse when Hogan accidentally eliminated the Macho Man at the 1989 Royal Rumble. The whole situation became a powder keg ready to explode at any second. Finally, it did, when (in February 1989) the Mega Powers teamed up against Akeem and the Big Bossman.
At one point in the match, Savage was tossed out to ringside and he accidentally landed on top of Elizabeth, seriously injuring her. Hogan immediately abandoned his partner and carried Elizabeth to the back, leaving Savage at the mercy of the two massive stars. At Elizabeth's urging, Hogan eventually returned and won the match himself.
Backstage, Hogan went to check on Elizabeth only to be greeted by an irate Macho Man who accused Hogan of not only trying to steal Elizabeth from him, but also plotting to take his World Title. Hogan begged Savage to listen to reason but Randy only responded by smashing the title belt in Hogan's face and beating him down, kickstarting a feud that would culminate in the main event of WrestleMania V.