10 Best Matches From The WWE ThunderDome Era
No fans? No problem! The WWE matches that made the very best of a bad situation.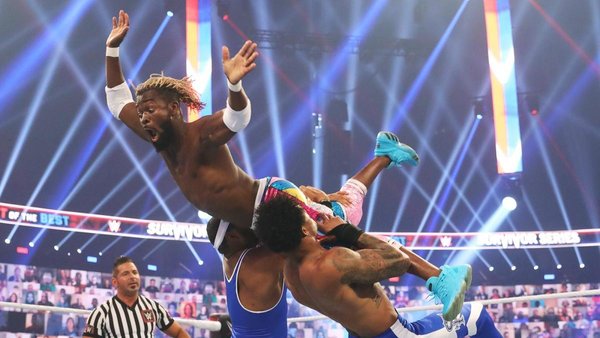 Unless WWE's current presentation has sent you careering into literally anything else to get your pandemic entertainment (and you'd be one of millions if so...), you'll have noticed that recent editions of Raw and SmackDown have featured various talents speaking about how "excited" they are to be getting back out on the road.
Said promos are delivered about as convincingly as ones where tomatoes are thrown in desolate backstage areas, but who could blame the performers themselves? It's almost as if wrestlers have gotten accustomed to a life that doesn't punish them half as much as it used to. The impending switch back to normality is for Vince McMahon first, fans second, probably crew and other associated job-scared staff third, with wrestlers limping in in dead last.
And it's limping they'll be doing again soon.
Yes, it's likely that a lack of energy from the stands has been a disconcerting feeling at times, and some wrestlers have previously spoken on the need to get calloused for the good of taking all those bumps, but the road is typically considered the hardest part of the job, and they'll be partying like it's 2019 as soon as McMahon can justify it.
With the new beginning will come the end of the strange ThunderDome era, but which contests will be filed in a Peacock playlist labelled "It wasn't all bad" when the crowds finally come back?
10. Big E V Sheamus (SmackDown, October 9th 2020)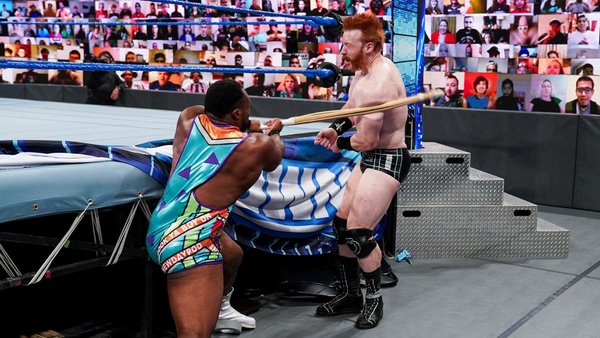 With Money In The Bank looming and crowd interaction likely to be a crucial ingredient in Big E's road to the top of WWE, it's possible that the New Day man's serious push has been placed on pause on purpose.
It can be the only explanation for why his character was kept at Intercontinental Championship level following months of excelling as a singles star. Considering WWE's obsession with the idea of it, it often feels impossible to build momentum in the company, but E's grisly victory here seemed to be capitalising on quite a run.
Understanding how vital it was to uphold the immersion for television viewers in a venue full of faces on screens, the two used a Falls Count Anywhere stipulation to provide a sensory overload for the night. A rare case of a walk-and-brawl that had charm and imagination, Sheamus' failure to appreciate E's serious side cost him. Chatting sh*t got him banged, over and over again as the duo smashed the f*ck out of each other through every sparse section of the Amway Centre.