10 Best Wrestling Matches Of 2022
That Jon Moxley Vs. Dax Harwood battle is closer than you thought...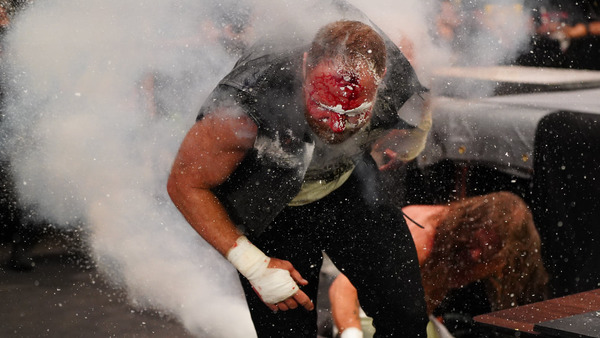 New Japan Pro Wrestling is a very obvious omission here; bluntly, they don't take too kindly to the media utilising their IP, even in the form of screenshots.
Even if that weren't the case, clap crowds are untenable to those who have fallen off the product after it peaked in 2019, since full crowds have been back in the States since the summer of last year. In a way, it's almost more magical when a match is so electrifying that the conscientious fans can't help but abandon the policy because that is real, overwhelming emotion. The Will Ospreay Vs. Kazuchika Okada '22 G1 final was immense in this regard; Ospreay channelled those few who have overcame Okada as his strategy, and when he borrowed from Kenny Omega, the conscientious clap crowd exploded with noise.
Still: it isn't the same.
Jun Kasai Vs. El Desperado was such an artful, dramatic and violent spectacle enhanced by the unique context. Despy knew his way around a plunder brawl, but hadn't entered a domain so unhinged. He sold it as nothing less than a nightmare, and his agonised terror was so effective in getting the grotesque set-pieces over.
There were several more incredible matches even in a year that wasn't quite as great as 2021 in the ring. There's no space here for any of the snug firecracker Dax Harwood singles matches nor the incredible, nasty, combat spots war that was Jon Moxley Vs. Biff Busick at GCW Bloodsport.
There is space for...
10. Will Ospreay Vs. Orange Cassidy - AEW X NJPW Forbidden Door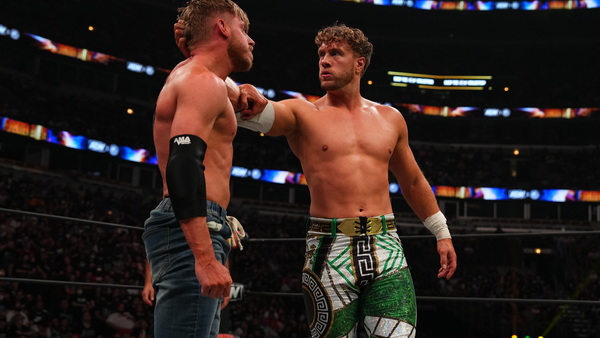 Some might argue that Will Ospreay worked better matches in 2022, but he never worked a louder one than his surreally brilliant match with Orange Cassidy at the life-affirming Forbidden Door pay-per-view.
Cassidy was priceless in the opening moments. His piss-funny parody of Ospreay's "This is the bit where you clap wildly" martial arts pose applause sign bit wasn't just amusing. As with everything Cassidy does, there was another layer to it: that is the moment in a match where Ospreay appeals to the crowd and uses their reaction to gain confidence. Cassidy wormed his way into Ospreay's psyche by bruising his ego.
Initially, Ospreay responded by thrashing Cassidy with an awesome, explosive barrage of high-impact offence before slowing the pace down, but Cassidy had irritated him into unloading the tank. Ospreay also played up to the dynamic, and, in the heel role, did so with a witless bent. He stuck his middle finger up like an edgelord after putting his hands in Cassidy's pocket. The dynamic of witty irreverent underdog versus unfunny ar*ehole bully was tremendous in rallying the crowd behind Cassidy's big comeback, before which Cassidy, after mocking Toshiaki Kawada's disdainful kicks, unloaded the true, brutal version to an electrifying pop.
Before Ospreay only narrowly overcame, Cassidy mounted the best comeback of the year: his feigned injury ruse eventually lulled Ospreay into taking the Beach Break, for an agonising near-fall, and the rapid-fire chess game of feints prior to it blew the roof off the United Center. Constant shockwaves of laughs, hope and blistering action, this was Cassidy's best ever singles outing.
You'd have to literally put your fingers in your ears to deny his brilliance on this night.