10 Best Wrestling Tag Teams Of 2018
The pairs that looked up as divisions doubled down...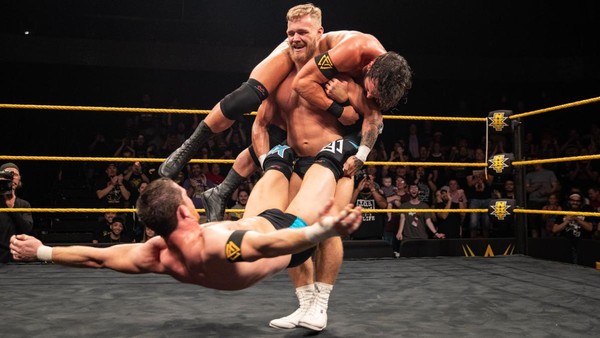 It was the best and worst of times for tag team wrestling in 2018, but in order not to totally spoil the arrangement of combos ahead, it's perhaps worth assessing the philosophical shifts across the industry rather than jump immediately to those that affected the changes.
A renaissance of sorts occurred in WWE in 2017 thanks to two deep crews keen to reinvigorate a league wrecked from years of neglect. Driven by NXT's own reinvention of the genre, the SmackDown Live and Raw rosters produced some of the best matches of the year to try and remind Vince McMahon why it was sometimes actually worth paying four men to do the job of two.
It continued in earnest in patches in 2018, though both sets of belts were left to bleed out after wretched WrestleMania switches put the straps across the wrong shoulders. Frustratingly, the company's developmental brand were still showing their peers how to do it properly. Dave Meltzer dished out a rare five-star rating to a taped NXT television match - itself a rarity without the disadvantage of being a canned classic potentially already spoiled to a mass audience.
Across the rest of the wrestling world, tag team wrestling struggled to strive in an era where solo stars are making towns and money once again. Across New Japan Pro Wrestling and the independent scene though, there were some intriguing innovators ensuring the highest profile pairs keep pace...
Michael Hamflett
We Need To Talk About Kevin (Nash). Michael can be found in articles or on podcasts extolling the virtues of New Generation WWF, New Japan Pro Wrestling or the new WWE angle they definitely definitely won't ruin this time.
See more from Michael