10 Biggest Mysteries In The Secret War Between AEW And CM Punk
8. Was There A Valid Reason Behind Colt's Vanishing?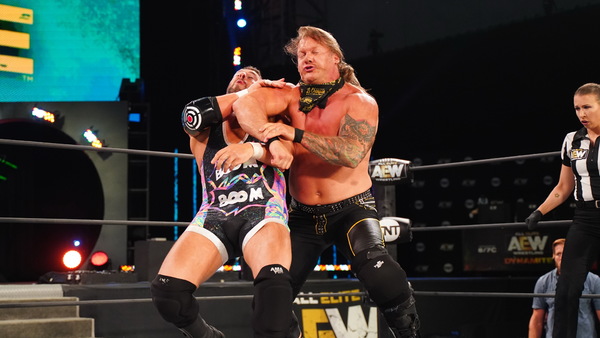 Mystery:
As Colt disappeared both onscreen and off, rumours swirled around the locker room, which bled into the online discourse: Colt had gone away under suspicious circumstances, and Punk was to blame.
But what if it's all far less cynical and conspiratorial than that?
What if Colt was simply deemed a bad fit for AEW?
It was reported by Fightful in July 2022 that AEW had not planned on re-signing Cabana, a very popular figure backstage, upon the expiration of his deal. This caused something of a sh*t-storm; Colt is perceived to be a funny and outgoing fellow, and moreover, is beloved by many of "the boys" for pioneering a revenue stream, the quick t-shirt turnaround, that allowed many of them to profit via ProWrestlingTees. Khan relented, and, in a cursed bid to appease the locker room, signed Cabana to a deal exclusive to the Ring Of Honor brand.
What if Khan simply believed that Cabana had outlived his usefulness in AEW, and Punk's toxic/non-existent relationship with him was a mere coincidence?
By early 2022, Khan was hardly short of veteran wrestlers who functioned only to do jobs. Also: Khan never fancied Colt too much, did he?
Think about it: if Khan truly valued Cabana as a super-solid, versatile and experienced talent who could work anybody's match safely, he'd have signed him in January 2019 when he needed the roster depth. The Young Bucks lobbied to get Cabana on board over a year later. It wasn't Khan's idea; the thought didn't pass his mind.
Subjectively, Colt was fine to very good in AEW. His none-the-wiser act as Mr. Brodie Lee's underling was charming, and in the ring, he actually had a cracking outing with Chris Jericho in 2020 (before his omni-botched return bout).
But Khan wasn't high enough on Cabana to sign him without his arm being twisted.
Theory:
This is an under-reported facet to the saga, one that may act as a defence of CM Punk. Was Colt as good an agent as he was a midcard hand? The "boys" certainly seemed to like him, but again: Khan was never a Colt Cabana Guy.
That said...