10 Biggest Post-WWE WrestleMania Shockers
The best spring surprises!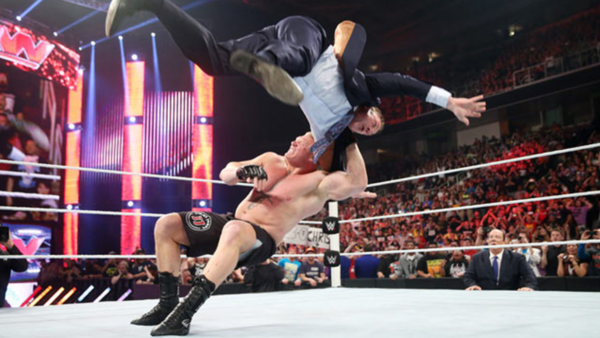 WrestleMania is big, but it's not the be all and end all of pro wrestling.
As many major storylines get their payoffs at the Show of Shows, new intrigue and drama needs to be created the very next evening. As such, the episode of Raw immediately following WrestleMania contains a ton of surprises, and is usually considered one of the best of the year.

This year's post-WrestleMania Raw was no different - Finn Bálor, who was injured at SummerSlam last year, made a long-awaited return to WWE programming, while two-time NXT Tag Team Champions The Revival debuted on the main roster. Those were just two of the shockers that made Raw so newsworthy.
Over the course of Raw's 24-year history, there have been dozens (well, two) of post-WrestleMania editions and hundreds of surprises that have come along with them. This list is an attempt to whittle it down to the absolute best - though there were many, many options from which to choose, some stood out as head and shoulders above the rest. So with the post-WrestleMania frenzy starting to fade, and the post-post-WrestleMania time for reflection having finally arrived, let's relive some of those amazing, stunning moments...
10. Brock Goes Nuts (2015)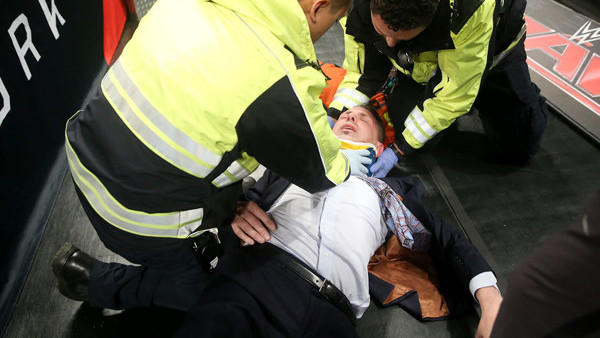 Some people expected Brock Lesnar to retain the WWE Championship at WrestleMania 31, while some people thought that Roman Reigns was going to end his title run. Fewer fans correctly predicted that Seth Rollins would cash in his Money in the Bank briefcase during the match, pin Reigns, and thereby steal the title from Lesnar.
Needless to say, the next evening on Raw, Brock Lesnar wasn't happy - but he was focused. "The Beast" was ready to cash in his rematch clause and win the title back from Rollins, but when the time came for the match, "The Architect" said he was bailing. Lesnar tried to attack Rollins, taking him over with a German suplex, but the new WWE Champion landed on his feet, kicked Brock in the head, and turned tail.
Lesnar was so furious that he took out a cameraman with an F5. He then turned his attention to the announcers, beating them all up and levelling Michael Cole with an F5 that kept him off TV for two weeks.
It was a rare rampage, even for "The Beast."