10 Confusing Wrestling Moments That Nobody Understands
3. The Circles That You Find In The Windmills Of Your Mind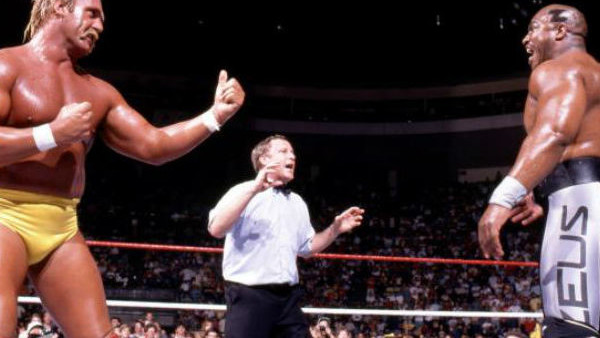 Another Hulk Hogan storyline - this one from the WWF. While WWF Champion in 1989, Hogan appeared in terrible wrestling feature film No Holds Barred, in which he played a wrestler called Rip Thomas, feuding with his monster heel nemesis Zeus (played by actor Tom €˜Tiny€™ Lister).
In order to capitalise on the film€™s release, Lister appeared on WWF programming playing Zeus, complaining that Hogan had received top billing over him. That€™s right: Lister€™s wrestling character was his character from the film, while Hogan€™s wrestling character was the actor in the film. Hulk Hogan was being menaced in the ring by a character from a movie.
It could, of course, have been some kind of metatextual thing - a movie come to life, like Woody Allen€™s Purple Rose Of Cairo, or John McTiernan€™s Last Action Hero. There could have been levels of kayfabe on top of kayfabe, Terry Bollea playing Hulk Hogan playing Rip Thomas.
Zeus could have revealed himself to be Tom Lister, who then ripped off a mask to reveal Old Man Withers from the amusement park. They could have kept going, revealing themselves to be someone else masquerading as someone else, over and over until finally someone pulled off their face to reveal a bloody skull, screamed and died.
That would have been brilliant. This was sh*t.
Lister couldn€™t wrestle. Of course he couldn't, he was an actor not a wrestler. Mind you, he couldn€™t act either but that€™s okay, because Hogan couldn€™t act. He was a wrestler, not an actor. Mind you, he couldn€™t wrestle either but that€™s okay, because Lister couldn€™t wrestle. He was an actor, not a wrestler. Mind you*rips off own face to reveal bloody skull, screams and dies.
Jack Morrell
Professional writer, punk werewolf and nesting place for starfish. Obsessed with squid, spirals and story. I publish short weird fiction online at desincarne.com, and tweet nonsense under the name Jack The Bodiless. You can follow me all you like, just don't touch my stuff.
See more from Jack