10 Fascinating WWE Facts About WrestleMania 35
A grand finale for the Showcase Of The Immortals before the industry and the world changed forever.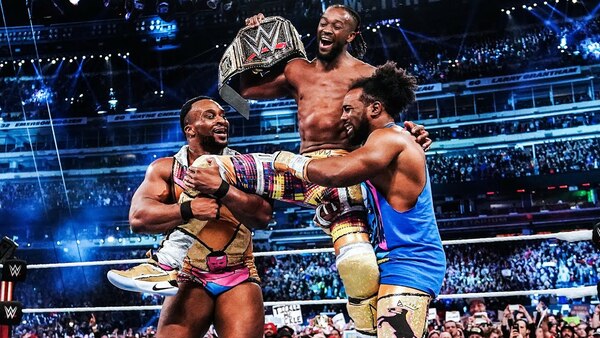 The crowning of Seth Rollins, Kofi Kingston and Becky Lynch as Universal, WWE and Unified Women's Champions respectively at WrestleMania 35 was a rare case of that-era WWE dealing exclusively in happy endings.
Rollins' win over Brock Lesnar was designed in good faith to finally present the former 'Beastslayer' as a true topline babyface, even if the follow-ups across the year did the complete opposite. Kofi Kingston's historic Championship win over Daniel Bryan was one of the most emotional moments in WrestleMania and WWE canon, not least because he was able to share the moment with New Day partners Big E and Xavier Woods. Fans loved Becky Lynch so much that they came alive for her own historic headline win despite the aforementioned Kingston victory proving the emotional peak of the show halfway through.
WWE, for one night at least, appeared to be the nice company. That itself felt like a tactical move when its beloved NXT brand was as-good-as dispatched by new rivals All Elite Wrestling less than a year later. And some of the facts behind an extremely memorable show weren't as glamorous or glossy as the fiction...
10. The Main Event Finish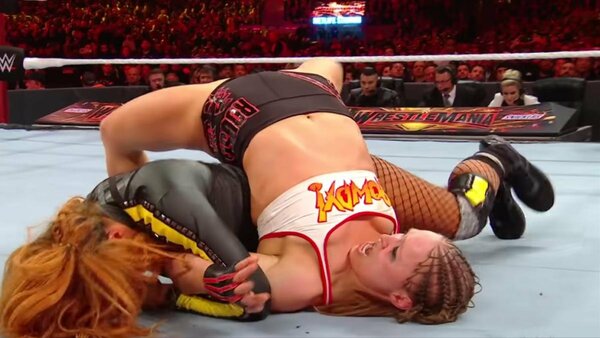 Starting at the very end, WrestleMania 35's glorious climax was infamously fudged when Becky Lynch defeated Ronda Rousey with a loose roll-up long before the historic Raw & SmackDown Women's Championship match felt close to the conclusion.
The 'Baddest Woman On The Planet' cleared up the confusion on an discussed the botched finish during an appearance on The Kurt Angle Show, noting exactly how things fell apart. She said;
"I didn't think my shoulder was down...I was trying to flatten out to put my shoulder more down. I thought it was just the very tops of my shoulders, so I was trying to shimmy down so the actual back of my shoulders was down and I didn't know that he had already started counting, so I'm worried that my shoulder came up during the shimmy. So I was trying to help, but it ended up being awesome because now I have a gripe to revisit. That wasn't on purpose. I apologized about that one. It wasn't until later that I was like, 'Oh f*ck, my bad."
Various bits of hubbub have suggested that Charlotte Flair was supposed to tap to preserve the Rousey/Lynch rematch, but it didn't matter - that singles match ultimately never materialised.