10 Fascinating WWE WrestleMania 35 Facts
8. Peyton Royce Breaks Ground For The '90s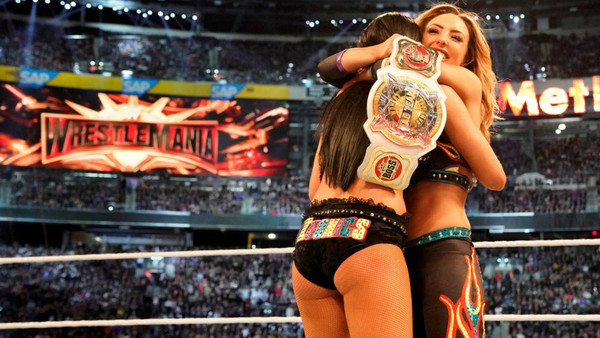 Why did WWE split up The IIconics? Sure, they were annoying, but wasn't that the point? This company, seriously.
Things were much rosier for the Antipodean allies way back at WrestleMania 35, when they overcame the odds and became only the second duo to ever hold the WWE Women's Tag Team Championships. Going into the fatal-four-way, Peyton and Billie were most people's least likely to come out victorious, yet there they were, celebrating in that inimitable IIconics style.
In winning this match, Peyton Royce became the first superstar born in the 1990s to win a championship at WrestleMania, a depressing fact for anyone born before that decade but a pretty amazing one for the underrated star from Sydney. How long until someone born in the 21st century wins a championship at WrestleMania?
Well, one year prior to this, actually. Nicholas was born in 2008, and that is a record that won't be broken for a long, long while. Do we really have to act as if Nicholas is an actual thing that happened? Why didn't Braun Strowman pick Tomohiro Ishii to be his partner? Some things are impossible to ever get over.
Still, well done on your history making moment, Peyton Royce.