10 Genuinely Disturbing WWE Heel Beatdowns
10. Mickie James Has Her Cake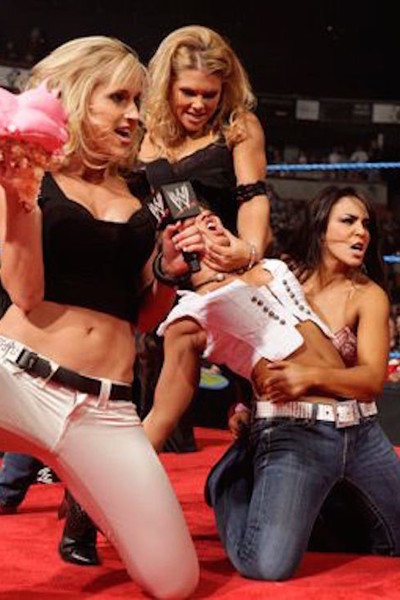 As evidenced by Alexa Bliss' reclamation of the Raw Women's Title at Money In The Bank 2018, bullies always get to win in WWE in the end regardless of the supposed comeuppance they suffer along the way.
This was sadly the case in February 2010 when Michelle McCool regained the WWE Women's Title from Mickie James a month after losing it in humiliating fashion in a contest that should have been a payoff to the divisive LayCool 'Piggy James' angle.
Both McCool and Layla got their just deserts that night, with the shadow of their horrific attack on the oppressed James still fresh in the mind of the former champion's loyal fanbase. Abusing Mickie for her alleged weight gain (an angle infuriatingly crafted by the company to make that exact point), McCool, Layla and Beth Phoenix assaulted her on the go-home edition of SmackDown with a variety of baked party goods.
The beatdown culminated in Mickie having a pig cake rammed forcibly in her face before then having a full punch bowl tipped over her head as she helplessly wept.
Michael Hamflett
We Need To Talk About Kevin (Nash). Michael can be found in articles or on podcasts extolling the virtues of New Generation WWF, New Japan Pro Wrestling or the new WWE angle they definitely definitely won't ruin this time.
See more from Michael