10 Incredible Matches That Make No Mercy WWE's Best Ever B-Show
The Grandest Stage Of The Fall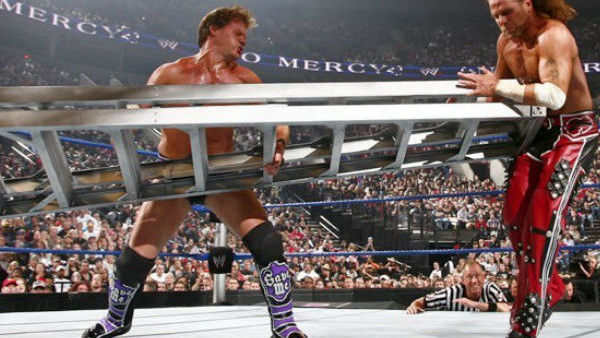 Making it official with an absorbing contract signing segment, WWE confirmed that the first ever singles meeting between John Cena and Roman Reigns would take place not at WrestleMania next year, but at September's No Mercy pay-per-view in less than a month's time.
It joins the long-awaited Brock Lesnar/Braun Strowman Universal Title clash on an event that could literally now go ahead with just those two matches and likely service a crowd just as well as the 13 bouts WWE elected to provide at SummerSlam a fortnight ago.
The decision to include these matches on what many would consider to be a fairly nondescript show has perplexed fans, especially in consideration of the company's struggles to produce top level cards befitting expectations around the 'Show Of Shows' or 'Biggest Party Of The Summer'.
However, not only is this symptomatic of WWE's current policy towards major first-time outings (potential blockbuster matches pitting Cena against Shinsuke Nakamura and The Hardy Boyz against The Revival both happened on television this summer with only a week of build), but it actually follows form for the organisation's affinity to this particular pay-per-view.
Since its 1999 inception, the autumn filler show has in fact been responsible for several match-of-the-year candidates, tucked away from the hubris and hyperbole of the usual supershows. Reigns, Cena, Lesnar, and Strowman could all have history-making nights on 24 September, but they wouldn't be the only ones.
10. AJ Styles Vs. John Cena Vs. Dean Ambrose (2016)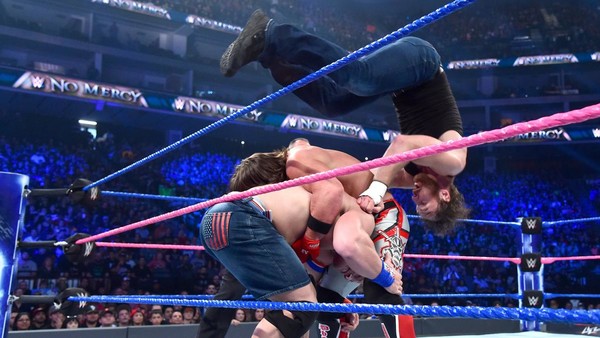 Dean Ambrose looked to be having his last hurrah in SmackDown Live!'s main event scene long before he'd even lost the WWE Title at September 2016's Backlash pay-per-view, but his contributions to a pulsating rematch against new Champion AJ Styles and perennial fly-in star John Cena at the blue brand supercard was a keen reminder of his potential ability at the top level.
Uncharacteristically opening a No Mercy show that ran head-to-head with Donald Trump and Hilary Clinton's second presidential debate, the gripping battle also saw AJ Styles further cement his growing reputation as WWE's ace, outworking both challengers but remaining loyal to his heel persona in an effort to keep his newly-won prize.
Very much the third man, Cena was cast more as a special guest in their rivalry, and was subsequently given a host of near-falls to expertly craft an ilusiory image that he could again claim all the marbles.
It wasn't to be. Though he'd joined Ambrose in forcing 'The Phenomenal One' to tap out with an STF/Calf Crusher, the referee couldn't decipher exactly who was claiming the victory, allowing Styles to recover and cheaply retain after striking 'Big Match John' with a steel chair. A rarity for recent Cena contests, this was a good night for the full-timers.