10 Longest Reigning WWE Tag Team Champions Ever
Whose record are The New Day creeping up on?
When Vince McMahon purchased World Championship Wrestling and Extreme Championship Wrestling in 2001, the WWE (then WWF) roster was big enough to justify splitting the company into two brands, RAW and SmackDown. Each show took its own champions, and created new championships to fill the gaps.
One such championship was the WWE Tag Team Championship, established on SmackDown in 2002 in order to give the tandems on the blue brand something to fight for.
The inaugural champions were the thrown together duo of Kurt Angle and Chris Benoit, who defeated Edge and Rey Mysterio in a blistering tournament final for the honour. Funnily enough, John Cena lost in the first round teaming with Billy Kidman, whilst Brock Lesnar suffered the same fate whilst teaming with Tajiri, of all people.
44 teams have gone on to hold the straps, with Kofi Kingston, Xavier Woods and Big E. of The New Day the current champions. Some great teams have been on top, such as Team Hell No, The Shield, Los Guerreros and The Dudley Boyz, but the division has also seen some wretched teams win gold, teams like Renee Dupree & Kenzo Suzuki and Legion of Doom 2005 (Animal and Heidenreich).
But who held the straps for the longest time? New Day have been champions for 265 days as it stands, where do they fit in the list? Here are the 10 longest reigning WWE Tag Team Champions of all-time.
10. MNM - 145 Days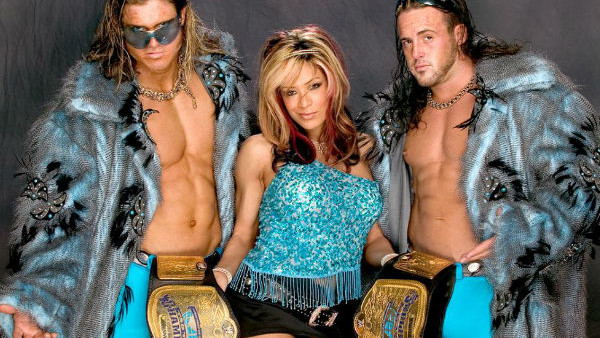 When Joey Mercury, Johnny Nitro (who would become John Morrison) and Melina were unveiled as MNM in the spring of 2005, it is safe to say that the SmackDown tag team championship scene wasn't at its strongest. The champions were Eddie Guerrero and Rey Mysterio, a fine team for sure, but the belts were props to advance the story between the two friends. MNM merely picked the bones.
Mercury and Nitro would win tag gold three times in 2005, with Legion of Doom (Animal and Heidenreich) and Batista & Rey Mysterio sitting between the three reigns. Their third reign began at the end of December and would be their longest, defeating the Animal & Rey for the straps only to lose them 145 days later to Paul London & Brian Kendrick.
MNM were clearly the top team at this time, being packaged and presented like a trio as opposed to two guys thrown together for storyline purposes. Before putting this together I expected this to be a longer reign, but 145 days is certainly nothing to be sniffed at.