10 Most Bizarre Wrestling Title Lineages
All that glitters ain't Goldberg.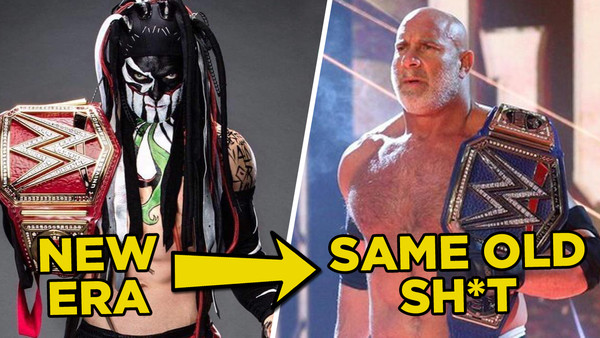 If a wrestling promotion is faithful and committed to building and maintaining a sense of prestige around a wrestling title - over a period of years and years - virtually any match contested for it is an easy sell. It becomes a king maker. It becomes that which it was designed to be: a symbol of excellence, a gold-plated endorsement of a career.
An achievement, not a prop.
The IWGP Heavyweight Championship is the most prestigious in all of wrestling. Built via men who were or would become legends across multiple disciplines - the pioneering, mega-drawing strong style of Antonio Inoki, the innovative technical prowess of Tatsumi Fujinami, the hoss awesomeness of Shinya Hashimoto - the title was promoted as a reward only the hardest, most skilled work could obtain. Even the wobble it experienced in the Inokism of the mid-2000s is marketed wonderfully in the modern era. When NJPW promotes an IWGP Heavyweight Title match, a still image parade of former holders, with a suitably epic brass soundtrack, is broadcast ahead of it.
Even acknowledging this warty history gets it over: it's not immaculate, but it's authentic, and legendary men like Hiroshi Tanahashi have elevated it from the swamp to the stratosphere. Or, alternatively, just get somebody to win a World title because you want to get them over.
It's that easy!