10 Most Embarrassing Wrestling Botches Of 2018 (So Far)
A year of screw-ups, gaffes, and all-out trainwrecks.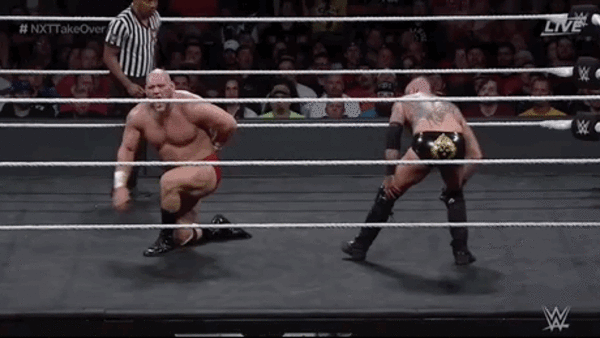 In professional wrestling's goofy little world, nothing is more meme-worthy than a good old botch.
Yes, they often break the audience's immersion, and yes, they suck for the performers, but gifs of these highly trained professionals messing up often hit the internet within minutes. They go viral quicker than anything else, and with wrestling footage now more obtainable than ever before with social media's surge and the advent of over-the-top video streaming services, barely a week passes without someone's almighty screw-up drawing tens of thousands of likes, retweets, and upvotes.
We've seen so many in 2018 that the examples within don't even scratch the surface. Thus, notable omissions will be legion, so please don't be shy of sharing your favourites in the comments section below.
The flubs within cover wrestling's full spectrum, from grimy Japanese independent promotions all the way up to WrestleMania, but nasty head-drops and other dangerous mistakes have been omitted. Instead, our focus lies solely on those that had us reeling with laughter.
These botches disrupted their matches and left the performers red-faced with embarrassment, but other than their bruised egos and dented prides, everyone involved walked away unscathed.
10. Classic Sin Cara (WWE Extreme Rules)
LE BOTCH pic.twitter.com/fLUvU79DT4

— callum hopkin (@uncle_callum) July 15, 2018
No name is more synonymous with WWE botches than Sin Cara. This is largely the fault of the gimmick's original practitioner, Luis Urive, who was thrust towards an alien style of wrestling on national television far too quickly. The former Mistico skipped developmental, and thus had no time to get used to his new environment, resulting in a long series of hilarious, high-profile mistakes that eventually came to define his run.
Jorge Arias, the current Sin Cara, isn't as culpable, but he does give the original a run for his money every now and then, with his most recent example coming on the Extreme Rules Kickoff Show.
He got a little too ambitious while wrestling Andrade 'Cien' Almas in a fast-paced warmup match. With his opponent on the apron, Sin Cara scaled the turnbuckles, then leaped off, trying to Hurricanrana Almas to the outside. He missed completely. It could've been absurdly dangerous, but Andrade was fortunately able to throw himself to the floor in tandem with the masked man, transforming it into a ropy collision that wasn't pretty to look at, but at least prevented anyone from getting hurt.