10 Most Messed Up Moments In Wrestling Matches
This list of unsafe wrestling moments is certainly NSFW: starring Mick Foley, Brock Lesnar & more!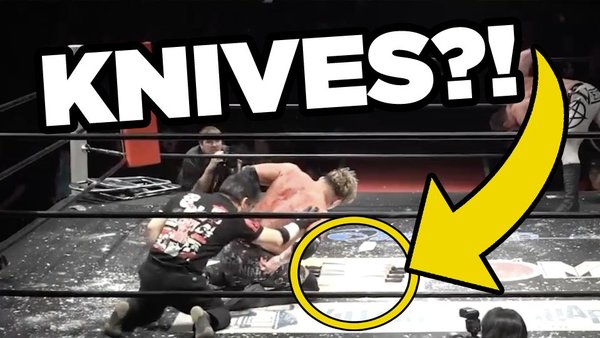 [Note: this article is not for the faint of heart; graphic images follow.]
Yes, this is entertainment...
Crowds have returned to All Elite Wrestling and this week, crowds return to WWE shows for the first time since WrestleMania 37.
It all feels as exciting as it does dangerous. Wrestling is exponentially better with crowds, even those who make it clear that the sh*t being served to them does in fact stink. Wrestling is a live performance art that relies on crowds to actually function. As life-affirming as it may feel, to bask in the atmosphere of a crowd that is desperate to see Hangman Page ascend to the place he finally feels worthy of, this is only happening because the western world has given up selling for an exhausting pandemic that is not over.
The world, despite a stagnant vaccination drive and emerging variants, has simply shook its head from side to side and pointed "You!" at a highly transmissible virus because it doesn't work for people, brother!
The possibility of danger extends to the ring, too. The return to live crowds almost acts as a reset. Opportunities abound - who is far more over than a booker may have guessed? - and this could very well be realised with a risk-taking ambition.
The acts in modern wrestling would do well to heed the lessons from pro wrestling's ultra-gory past...
10. Ian And Axl Rotten Slice Each Other Up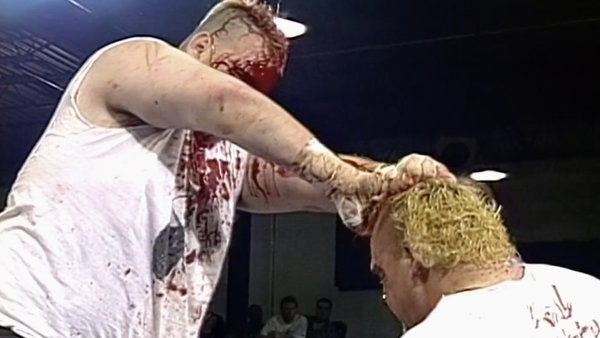 You likely read about this match before you ever watched it.
Even in those first insider mags you picked up from the newsagent, with their wild images of sparks, barbed wire and claret-drenched faces, the lurid mentions of a match fought with glass glued to fists elicited a certain horrified fascination.
How was it possible to fake?
How did nobody incur serious harm?
...where can I find it?
And when you watched the Taipei death match, you were met with an artless gore-fest lacking badly in suspense. It was among the most dangerous and gory matches to never really feel dangerous. It took Ian and Axl Rotten all of five seconds to land the first blow after some obligatory ducking. The storyline machination of Bill Alfonso's power trip did in fairness create that sense of sick longing, but once he was dispensed with by Todd Gordon, the warring brothers just sprinted into one another's face glass-first. That was the height of the action; beyond the furious restart, Ian and Axl simply and politely took it in turns to cut one another open in a plodding brawl that delivered what was advertised and what was advertised only.
It was well worked only in that the glass looked like it was being plunged far more deeply into the flesh than it was.
The blood was of a nasty, thick variety; fittingly enough, so were the workers, who were at least bright enough to wear white.