10 Most One-Sided Brutal Beatdowns In UFC History
These are most savage annihilations to ever take place inside of the Octagon.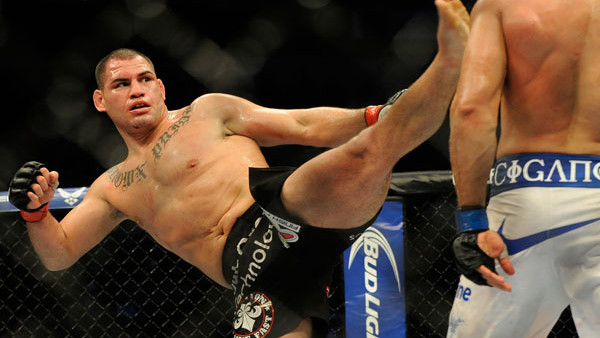 One of the things people love about mixed martial arts is the unpredictability that comes with it. You can never really truly know what's going to happen when two opposing forces compete against each other. Sometimes you get intense, back-and-forth scraps where both fighters give their very best for 25 minutes, but then there are situations where a fighter is completely outmatched, outmanoeuvred and utterly outgunned.
While the UFC certainly have the most competitive and intriguing match-ups in the sport, that doesn't mean there haven't been some crushing, lopsided thrashings throughout the promotion's history too. We've gone through the archives and picked the ten wildest beatings to take place inside the Octagon.
From bloodthirsty heavyweight poundings that had opponents leaking all over the UFC canvas to masterful displays of violence that made some of the best fighters in the world look amateur, these merciless performances proved that not every fighter competing inside the UFC is on the same level.
You'll rarely see such dominant performances in the UFC, so we've created this list to showcase some of the most flawless victories the sport has ever seen.
10. Joe Lauzon Vs. Gabe Ruediger - UFC 118
Gabe Ruediger might not be a well-known fighter to modern fans. In fact, he might not even be remembered by people who watched the sport back in the early 2000s, when he fought for promotions like the WEC and Tachi Palace Fights.
However, if you watched season five of The Ultimate Fighter then you'll probably remember him as the arrogant upstart who ate an ice cream cake before taking on Corey Hill, before failing to make weight despite being hauled to and from the sauna by his coach and teammates. As you can guess, Ruediger was not the most respected fighter on the show and was consequently told to leave by Dana White for his lack of professionalism.
However, when he returned to the UFC four years later, to take on TUF season five teammate, Joe Lauzon, as a late replacement, some thought this might be his shot at redemption. Lauzon, on the other hand, had other ideas and proceeded to completely destroy Ruediger in 121 seconds.
While the entire fight only lasted two minutes, with Lauzon mercifully submitting Ruediger with an armbar, he took a beating that he must've felt for weeks afterwards.