10 Precise Moments Kayfabe Ended
10. A Tale Of Two Wrestling Matches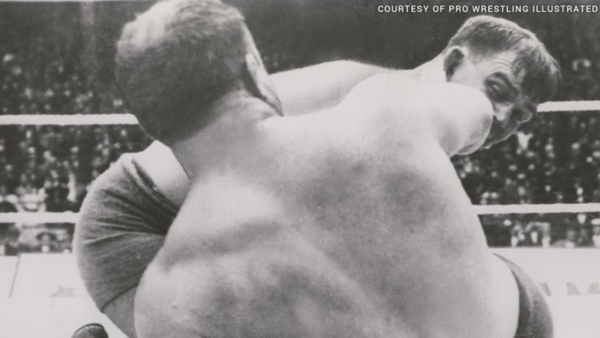 When did you first discover that wrestling isn't on the level?
The telltale slap of a super-kicking thigh? The stamp on the mat that accentuates - but reveals the lack of true connection behind - a punch to the face? The sense of real pain grasped from a real combat sport that puts one in the eye of wrestling's lack of bruising?
For the spectators drawn to Comiskey Park on September 4, 1911 - and the rest of the world, to which the events reverberated - it was the sequel to Frank Gotch Vs. George Hackenschmidt: 'The Event of the Century'.
Gotch was the man who, under the tutelage of the diminutive but nail-tough Farmer Burns, brought technical submission prowess to the big-time heavyweight theatre of pro wrestling, which itself comprehensively out-drew boxing, the less "legitimate" sport. Hackenschmidt, the Russian Lion, was a superhuman of absurd strength and resolve.
A rematch of a legendary, arduous, two-hour 1908 encounter widely considered to be a shoot, the 20 minute duration and sudden finish betrayed the old slogs to such a revealing extent that, as the Chicago Tribune had it:
"Most of the spectators filed out of the place in orderly fashion, feeling something had been done to them, they knew not exactly what, but something."
Fix? Screwjob? A sense of "going easy?"
A convergence of chicanery that could not be ignored - the same chicanery that always existed, but never so obviously - all but ended wrestling's reign as America's most popular sport.