10 Ridiculous WWE Urban Legends You Need To Stop Believing
Did Pamela Anderson cause a huge backstage brawl between Vince McMahon's top guys at WrestleMania 11?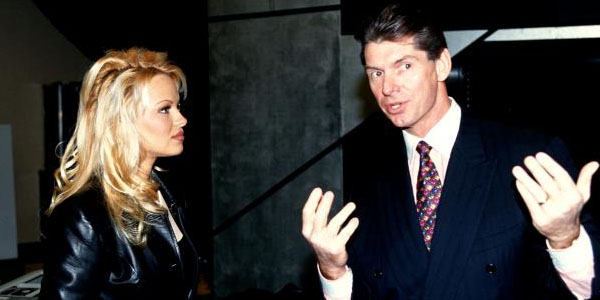 Urban legends and professional wrestling go hand in hand. With every week that passes by, dozens of rumors get spread about certain wrestlers, certain promoters, certain shows, certain storylines, and so on and so on. Most of the time a good majority of these rumors quickly get dispelled and are forgotten or considered a joke. Yet there are still some rumors that not only continue to circulate, but are still believed by a large group of wrestling fans, mostly the kind who somehow find a way to make everything they heard connect into one big conspiracy theory. The following are just ten urban legends that have been made in professional wrestling that either are not true or there€™s not enough evidence to prove that there any of the rumors are factual. You may have heard of most of these rumors already, while a couple of them might be brand new to you. Whether you€™re caught up on your wrestling gossip, or you€™re looking to dig deeper into the dirt sheets until you€™re covered in gunk and muck, get ready to see ten popular urban legends that will make you wonder how the heck such gossip got started in the first place.