10 Things You Need To Know About The Original ECW Invasion
In the mid 90's the WWF was invaded by ECW.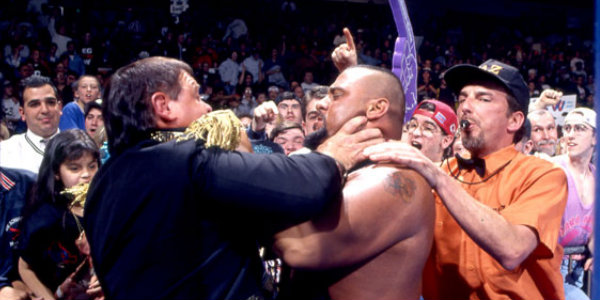 ECW invading WWE wasn't exclusive to 2001. Paul Heyman brought his band of hardcore merry men to the WWE first in 1997 for a series of epic RAW shows. This article will run down everything you need to know about that original Invasion. The original ECW had a die-hard fan base that couldn't, and perhaps will never be, matched as far as undying loyalty goes. Vince McMahon saw this and revived the promotion in 2006 after it went out of business five years earlier. He thought it would translate into big business. However, to say that it was a colossal failure would be an understatement. A corporate spin on a grass roots, anti-establishment wrestling promotion was a glaring reminder to fans that this wasn't the land of hardcore that they used to know. However, in the mid-90€™s, the professional wrestling landscape was a much different place. WWE, WCW, ECW were flourishing as the top three promotions and the highly sought-after inter-promotional dream match had been always a topic conversation. Who would win these epic encounters: Stone Cold Steve Austin vs. Bill Goldberg, The Rock vs. Ric Flair. We were treated to a sneak preview of what could be in 1996, and what eventually flourished the following year as the original ECW invasion. Extreme Championship Wrestling quickly gained ground and took off like wildfire while earning an infamous reputation. Not even Vince McMahon could ignore the uprising of extreme and there are a lot of ground breaking things that took place. Without further ado, here are 10 Things You Need To Know About The Original ECW Invasion.